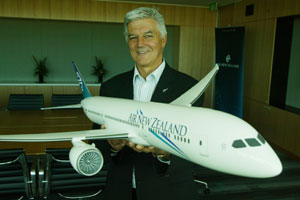 It's easy to feel a bit cynical when airlines and aircraft manufacturers proclaim the dawning of a new age for passengers.
For most people, the romance of flying died long ago. These days it's more often a matter of security queues, seats that are not quite big enough and dull meals.
To reverse the old saying, it's not the journey, it's the destination, that matters.
But when an experienced aviation writer such as Geoffrey Thomas - certainly the best in this part of the world - comes back from a visit to the Boeing factory positively glowing over the future of flying it has to be taken seriously.
"Boeing's 787," he says in the latest issue of his Flightpaths on-line magazine, "will be a quantum leap in air travel and the greatest advance in aviation for passengers since the jet age."
What he's talking about is the frequently delayed Boeing Dreamliner, now finally at the flight test stage, on which Air New Zealand has staked quite a lot of its future.
Our national carrier will be the first airline to take delivery of the 787-9 model, having ordered eight in all, with the first aircraft due to be delivered in 2013.
Clearly, if Thomas is right, that is a smart move, especially as the financial problems of transtasman rival Qantas have forced it to cancel 15 and delay the delivery of a further 15 787s.
So what is it about the Dreamliner that will make flying so much better?
Well, for a start, Thomas says the carbon fibre body will allow airlines to change the on-board air pressure from the equivalent of 8000ft to 6000ft and to boost humidity from virtually zero to 15 per cent.
Tests carried out by the US Army Research Institute have found that passengers making a simulated 20-hour flight reported feeling less achy, more relaxed and more comfortable at 6000ft pressure.
There will be an improved filtration system able to provide much cleaner air, in particular by removing volatile organic compounds, which, according to Boeing, are the main reason passengers feel seedy after a flight.
The windows will be much bigger, giving all passengers a much better view and reducing the effects of claustrophobia and fear of flying.
Boeing claims to have eliminated virtually all noises from engines, pumps and flaps, to the extent that passenger focus groups wanted a bit more background noise provided so their conversations couldn't be overheard.
Finally,flying in a 787 should be much smoother - 50 per cent better than in Boeing's 777 - thanks to a new technology aimed at reducing the effect of turbulence.
In conclusion, Thomas says Boeing's efforts at "reducing jetlag, dramatically improving ride quality, removing volatile organic compounds from cabin air and increasing humidity... will enable the 787 to virtually make obsolete any aircraft it competes against".
I'll drink to that. And with the air quality so much better, I might even be able to have my drink while flying without being clobbered by excessive dehydration as a result.