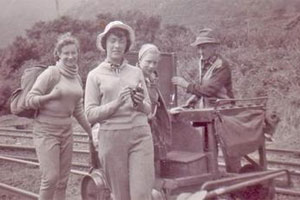 Clearly there's something about train travel that exercises a particular charm over New Zealanders ... even though these days there aren't a lot of opportunities to do it.
This week we'll publish the final story in a series about my journey round the country primarily by train - though also by ferry, minibus, plane and bus - which has produced an extraordinary response from readers.
Not only has there been a huge number of entries in our competition to win a luxury train adventure over the Southern Alps - the winner of which will be named in Travel next week - but also a remarkable number of people have been in touch to say how much they enjoyed the series and to share train anecdotes of their own.
Perhaps the most charming of these was from Moira Dye, of Warkworth, who described a rail trip over the Southern Alps from a very different era:
"In the very early 1960s three girlfriends and I backpacked round the South Island," Moira wrote.
"We got a lift from Greymouth to Otira, arriving at about 5pm. The traffic was sparse and looked unlikely to improve before it got dark. We asked two railway workers whether there were any more trains to Christchurch that day, and were told 'no'. We asked if there was a youth hostel in Otira. Again the answer was 'no'.
"We could not afford the one hotel, and were wondering what to do next, when one of the men came across and said that there was an empty railway hut with four bunks that we could use. Gratefully, we took advantage of this kind offer, and were woken at 6.30 next morning with a knock at the door and four thick railway cups of tea, which were most welcome.
"As we prepared to get out on the road, the men told us they were planning to leave for Arthurs Pass in half an hour on a jigger and we could have a lift. So the four of us sat back-to-back with elbows linked, clutching our backpacks in front of us, while the two men pumped their way at each end.
"To say it was exhilarating is to put it mildly. I seem to remember eyes tightly closed for most of the way. This surely was the ride of a lifetime."
Some day, Moira says, she will make the journey again "only this time in a proper train and enjoy the scenery".
I hope she does. Today's TranzAlpine, between Christchurch to Greymouth, certainly is worth doing with eyes wide open for the spectacular scenery. And so are the other TranzScenic trains, the Overlander, from Auckland to Wellington, and the TranzCoastal, from Picton to Christchurch.
Yet, from my experience, most of the people making these rail trips are tourists. That's crazy. We shouldn't leave the best features of New Zealand to foreigners.
After doing my own rail expedition I'm convinced, more than ever, it's a great way to see the country.