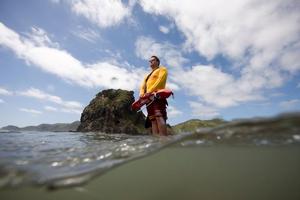 Welcome to 2010. Hope you had a great time over the Christmas-New Year break. I certainly did.
Regular readers may recall that my final message for 2009 was a recommendation to have a staycation - a holiday at home - and take advantage of the fact that everyone else will be out of town.
I have to admit that I didn't follow my own advice. Instead my wife and I took a cruise on the expedition ship Orion to the Sub-Antarctic islands.
It was a fabulous trip, the wildlife was magnificent, and I'm busy polishing a pile of stories about places like Campbell Island, the Auckland Islands, the Snares and Macquarie Island which few people ever see but are well worth visiting.
Heading for the Sub-Antarctic may not have been a staycation but it had the same effect because hardly anyone else was around. We spent Christmas Day in Pegasus Bay on Stewart Island, where we didn't see another soul. And the food was superb.
However it seems an increasing number of people are indeed taking staycations.
Lynn, from Titirangi, reckons her family has been doing just that for years. "It's about the best time to visit Piha. No crowds. You can actually getting a parking space to hang out at the beach all day. And then an easy trip into town to park and see a movie."
And the Lemon family, while totally agreeing with the idea of a staycation, complained that "now everyone knows our secret. Traffic jams all the way to the Bay of Islands drove us crazy our first Christmas in New Zealand. Now we stay home on the North Shore relaxing at the beach all week and do our travelling after the first of the year.
"If you can delay until after January 6 you practically have the holiday spots to yourself. The weather is usually better anyway."
And if you watched the TV1 news on January 4, the official end of the holiday period, you might have seen their reporter waiting at Warkworth for a traffic jam that never happened.
Instead she had to report there seemed to be more cars heading north on holiday than there were coming home.
I wouldn't like to claim that it's all thanks to my column... but it does seem as though staycations are an idea whose time has come.