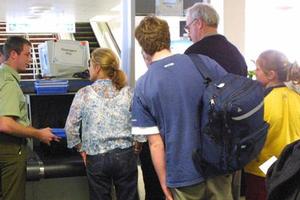 Several months ago I became the proud owner of a titanium hip joint.
A whole long -lost world has been returned to me - soon I will be able to put nail polish on the toes of my left foot, walk without the rolling gait of an ancient mariner and do up my own shoelaces again.
Small things maybe but not when you spend several months each year travelling overseas on your own.
Admittedly I've had some interesting conversation with strangers when I've had to get a shoelace retied but what to do about that hairy lower left leg?
So far so good. But there may be a catch... airport x-rays are apparently going to beep like crazy.
My surgeon tells me that because there are so many artificial hips travelling the world these days I don't need any kind of card to carry with me. I hope he's right, especially as I spend a lot of time in airports going to and from places where security is already high - places such as India, Pakistan, Iran and Syria.
Will sign language be enough I wonder, or will I be summoned to a curtained booth and have to display my scars?
I've had trouble in one of those booths once before and it's left a different kind of scar.
In Pakistan, all women are automatically processed through a curtained booth.
When the female guard waved her wand over me it began beeping frantically as it traversed my bust.
Hoping to avert a search I blurted out "underwire bra" which sadly was completely lost in translation. Instead the guard reached out with both hands and gave both underwired cups a good squeeze.
Goodness knows what lies ahead for me now, especially as, based on many tedious hours in airport security queues I've come to realise just how haphazard and often ineffective the system is.
I've watched people hauled up for having a tiny pot of lip gloss on their person, meanwhile someone passes through the same screening process with a full bottle of water.
Or the time when a frail lady in her eighties travelling with me had her plastic knitting needles (completely with half-knitted baby's bootie) taken away, while a passenger in the same group later realised they'd completed the same check with a sizeable pair of scissors in the bottom of their backpack.
I appreciate that we don't want to be flying with passengers alongside us who have knives and sharp scissors but the liquid and gel regulations are a debacle - especially as there appears to be no global consistency on how they are interpreted or put into practice.
I've even noticed some airlines are reintroducing metal knives for meal times - interestingly enough business class passengers never seemed to get the plastic cutlery - are they a lower risk because they've paid more for their seat?
No wonder there are people around the world who refuse to fly but instead when at all possible take the train. Walk through the station, onto the train, stow luggage and show ticket.
No need to queue, or entertain fellow travellers as you remove belts, jewellery, shoes, random paperclips, laptops and cellphones and display your travelling cosmetics for all to see.
Sure, it's nice to know my fellow passenger hasn't got an AK47 in her backpack but worldwide the screening system has become a shambles - inconsistent, inefficient and a trial to us all.
And that's before me and my new hip add to the chaos.
- Jill Worrall
Pictured above: Passengers wait to pass through an airport security checkpoint. File Photo / Christchurch Star