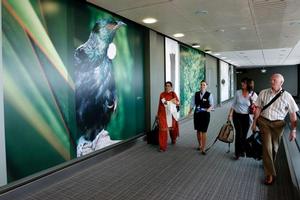 The announcement that Auckland International Airport has been voted one of the top 10 airports in the latest Skytrax World Airport Awards is not just good news for the airport company but for New Zealand and its population.

It's good for New Zealanders because on the whole we have to pass through the airport if we want to see the rest of the world so it helps a lot if that's a pleasant experience.

And it's good for New Zealand because the airport is the country's major gateway which makes it the place where visitors get those all-important first and last impressions.

I know from bitter experience that nothing gets a trip to, say, Britain or the United States off to a worse start than having to queue forever in dingy surroundings at Heathrow or Los Angeles airports in order to be processed by a surly immigration officer who gives the impression he'd prefer you went somewhere else.

Equally, nothing gets a trip off to a better start than to arrive somewhere like Seoul Incheon, Hong Kong, Singapore Changi or Zurich - the top five airports on the Skytrax list - and be welcomed to the country cheerfully and efficiently in pleasant surroundings.

Personally, I've thought for some time that Auckland was the best airport in this part of the world - far superior to the likes of Sydney or Brisbane - and I actually voted for it after my last three trips overseas (at www.worldairportawards.com).

There's a lot of factors that go into making a good airport - including duty free shopping, good eating options and leisure facilities - but for me the key issue is border processing.
We don't always want to shop, eat or play at the airport, but we have no choice about going through passport control, security and customs.

So it's particularly pleasing that Auckland airport was judged eighth in the world - out of 190 airports - when it comes to processing passengers. Better still, far from resting on its laurels, the airport company has a study underway right now aimed at identifying bottlenecks and streamlining immigration, agriculture and customs checks.

That sort of attitude is what will keep tourists wanting to come here. And in these tough times we need all the advantages we can get.