Disruption to residents and firms from world triathlon has led to call for a cap on such events.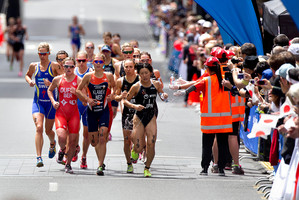 Auckland faces another traffic lockdown this weekend as triathletes take over downtown streets, prompting businesses to call for a cap on such show-stopping events.
Heart of the City business association chief Alex Swney said last night that the Barfoot and Thompson ITU World Triathlon, for which some streets will close for up to 41 hours, would be a great event and "another opportunity for Auckland to put its best foot forward".
He also said his members would keep having to take "a disproportionate hit" in lost business from road closures, simply because of their location.
But he gave notice that the association intended using new technology this weekend to assess pedestrian counts as well as business activity to recommend to Auckland Council the maximum number of events the central city could stand.
"We will be using this information to help us evaluate the cost to business so we can pick the right events in the right place in the city."
High Street menswear retailer Murray Crane is fed up with the frequency of disruption to trade, having been forced to shut for two days during the world triathlon series grand final in Auckland over Labour Weekend.
He was shut for renovations during Easter Monday's closure of Queen St for the Golden Mile running event, but said yesterday that the event caused an "absolutely diabolical" situation for others.
Although that was a charity event, the triathlon would be run by a commercial organisation which was not compensating businesses.
Wakefield St resident Philip Rama was disappointed the council-controlled Auckland Tourism, Events and Economic Development unit (Ateed) did not heed suggestions he made after Labour Weekend, when he was unable to drive out of his property for his weekly supermarket shopping.
He wrote to Mayor Len Brown then complaining about "needlessly officious" event staff wanting to know where pedestrians were headed.
In another letter to the mayor last week, Mr Rama called for the council to provide residents with free parking outside the cordoned-off zone, as a small price for the claimed regional economic benefits from the event.
Triathlon organising company chief Dave Beeche said it was acutely aware of the impact of such events on some residents and businesses "but we believe the net overall impact is a gain for Auckland".
Although Ateed estimated that Labour Weekend's grand final event pumped $7.41 million into Auckland's economy, he said it would be some time before his company would break even in its four-year deal with the International Triathlon Union to host a New Zealand leg of the eight-race series.
Despite the official length of some street closures, Mr Beeche said his organisation and its traffic management contractor would do their best to accommodate access requests from individuals between races.
Mr Beeche said his company was paying for a traffic management plan which included stationing information "ambassadors" at bus stops.
Auckland Transport spokesman Mark Hannan said his organisation was involved in an extensive advertising campaign but advised the public to visit www.maxx.co.nz for more detailed information.
For full list of road closures
www.aucklandtransport.govt.nz
For spectator map
auckland.triathlon.org