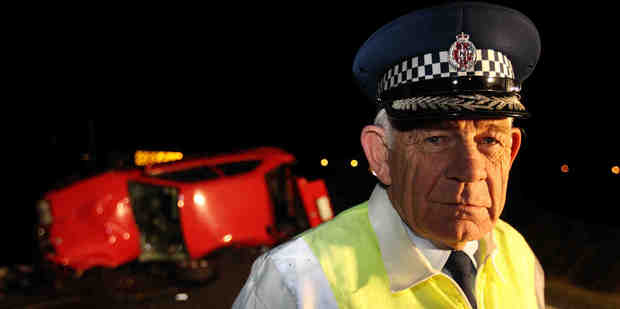 The blood-alcohol limit for drivers should be lowered to prevent more unnecessary road deaths, says one of New Zealand's most experienced police officers.
Outgoing Waikato District road policing manager Inspector Leo Tooman - who retired yesterday after 48 years service - said a number of measures were needed to keep the road toll falling.
These included lowering the alcohol limit from 80 to 50 milligrams per 100 millilitres of blood and introducing variable speeds to cater for different roads. More money and better roads would also help, especially in the Waikato, but the most important factor came down to drivers' attitudes.
"People come off a four-lane motorway onto a two-lane goat track and as a result of that the environment changes and they haven't adjusted to that environment."
The 67-year-old decided to devote his career to road safety after going to a crash that killed an elderly couple on their way to Christmas celebrations.
"It all came home to me back in Christmas '72 or '73 where I went to a fatal motor vehicle crash just south of Putaruru, where an elderly couple were travelling to Hamilton to see their kids and grandkids for Christmas."
The couple died instantly when their car collided with a truck.
"Of course in those days we didn't have the cutting equipment [or] the paramedics like we have today and we finished up carting this elderly couple with all their Chrissy presents back through the main street of Putaruru on the back of a tow truck in order to get their bodies extracted at a panelbeaters yard.
"And I thought to myself 'Hey this is unacceptable. This is not right. These people don't deserve to die this way'."
Mr Tooman can't count the number of fatal accidents he has been to, having patrolled Waikato roads since arriving as sole-charge traffic officer in Tirau for the Ministry of Transport in 1970.
Before that he was stationed in Wanganui on a Norton 650 motorcycle, after joining the former Transport Department as a keen 19-year-old in 1965. In 1983 he took over as chief traffic officer in Hamilton and oversaw the restructure from the old MOT to the Traffic Safety Service in 1987.
Five years later in 1992 the service was integrated into the police and Mr Tooman took over as strategic traffic manager.
He was renamed road policing manager in 2000 when he created a highway patrol base incorporating road police, the serious crash unit, illegal street racing unit, and the speed camera unit.
He is credited by his colleagues with helping to reduce the road toll to under 300 deaths a year, a significant decline from 843 in 1973 and more than 500 a decade ago.
With a largely increased traffic volume the annual toll could be as high as 2500 if road safety measures were not introduced, Mr Tooman said.
Improvements in cars as well as better roads and road design had also contributed to a lower toll, he said.
Over the years Mr Tooman was instrumental in setting up road safety initiatives and in 2005 he was awarded the Queen's Service Medal for his efforts.
Mr Tooman remains philosophical about the tragedies he's witnessed in his career and said he had no regrets.
"I suppose you've got a job to do. You get on with it."

Leo's list
Road safety initiatives introduced by Leo Tooman:
• Began 24-hour weigh-ins for heavy motor vehicles
• Blitz on driving in Hamilton involving 100 traffic police
• Saved by the Belt campaign
• Programme aimed at young Maori drink drivers
• Oversaw the introduction of speed cameras in the Waikato including hidden speed cameras