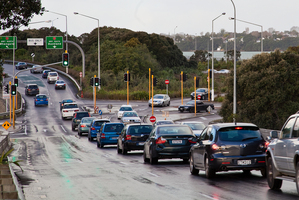 Why is the extra onramp lane from the port on to the Southern Motorway dedicated to trucks only? Other onramps where truck movements are high, such as at Mangere Bridge, Onehunga and Penrose (end of Church St), are dedicated to trucks and cars with more than two occupants. Any idea on why the difference? Mike Lambert, Auckland.
It's a matter of gradient. The Transport Agency provided the dedicated lane up Grafton Gully to give trucks a clear, if slow, run to the Southern Motorway and reduce the likelihood of trucks having to stop and start on the incline. It also helps keep them out of general traffic lanes so that vehicles which handle the climb better aren't hindered. If more vehicles were to use the truck lane, the advantage would be lost.
Most Auckland houses have two TV aerials - a large VHF one and a smaller compact UHF one. Can you confirm that late next year, when the analogue service is switched off, the VHF aerial will become redundant and will never be used again? What can we do with the old aerial? It seems a waste to put it out for inorganic collection.
Surely they should be recycled. Auckland probably has a few hundred thousand of them. Tony Cooper, Auckland.
Information I have gathered indicates that the old VHF aerials will almost certainly never be used again.
As for recycling Michael van der Merwe, New Zealand business manager for Sims Recycling Solutions, advises that the Ministry for Culture and Heritage, who are managing the roll-out of digital television, has teamed up with the NZ Lions Clubs to recycle VHF aerials as a form of fundraising so you can donate your old one to them. If this doesn't appeal, the aerials can be sold to any Sims Pacific metals branches in New Zealand for the value of the metal in their construction.
Can you find out what has happened to the TV G-code numbers that we use to set up our recorders? They seem to have been omitted from the TV listings around the time of the new style Herald release. Where can they now be found? Greg Pittams, Mt Roskill.
Russell Baillie, the Herald's entertainment editor, says there are three reasons to drop the G-codes.
Historically, the codes were supplied by Hong Kong-based company Gemstar. Gemstar advised the Herald some months ago that they would stop production of the codes at the end of January 2013.
That news, in addition to the decrease in newspaper size from broadsheet to compact, provided an opportunity to declutter the television listings and make them easier to read.
The third reason is that the rollout of digital television across the country is reducing the usage of analogue VCRs and therefore the need for G-codes.
The Listener still provides G-codes in its listings for TV One, TV2, TV3 and Prime.