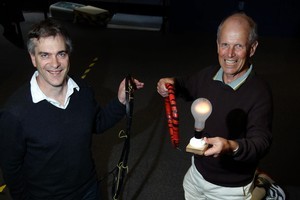 Grant Covic and John Boys of Auckland University. Photo / Supplied
Auckland boffins are in the money with an electrifying deal worth about $70 million for technology which allows electric cars to be charged without cables.
A joint-venture firm established by Auckland University has been bought by US firm Qualcomm after inventing the "Inductive Power Technology" device.
Cars simply drive over a pad, which transfers electricity to the vehicle.
In video demonstrations, the device sends the owner a message when the charging is complete.
And the technology is advertised as completely safe - the video shows a cat walking under a car as electricity is transferred, with no ill effects.
University vice-chancellor Stuart McCutcheon said the technology would be turned into a "world gold standard" for the industry and could end up "powering pretty much every electric vehicle in the world".
UniServices chief executive Peter Lee said the deal was the largest he was aware of for any New Zealand university, and could be one of the biggest technology transfers from our shores.
"We have created an opportunity to have this New Zealand technology become a standard for the world."
The technology dates back to 1988 when Professor John Boys transferred an electric charge across two points without the need for plugs.
He was joined by Associate Professors Grant Covic and Udaya Madawala in developing the HalolPT technology. Eight of their students at the university's power electronics group also hold patent rights.
The university's commercial arm UniServices will retain patents for the technology which were assigned to it by a group of professors and students, who will continue to receive lucrative financial rewards as it is hopefully licensed to the world's big carmakers.
Professor Covic said he was "not a millionaire yet" and would keep working to develop the technology further to ensure its success.
Although other developers are striving to match the team's efforts, the Aucklanders have managed to set up magnetic fields capable of transferring electricity by as much as 450mm between power plates.
That is more than twice the distance sought by carmakers interested in "plug-less" rechargeable batteries, meaning they can reduce the weight of the plates without losing their edge over the competition.
An earlier version of the technology, developed by the team, is powering about 40 Italian buses but they have to be lowered to have their batteries recharged across a narrower gap.
Professor Covic said instead of having to plug in batteries for four or five hours, drivers could simply park them over a power plate, which could transfer electricity even if covered with water.