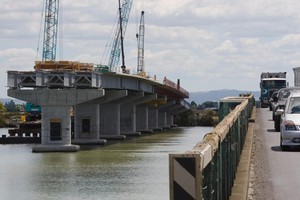 Progress on a replacement Kopu bridge being built at the gateway to the Coromandel Peninsula is looking almost too good to the Transport Agency.
"It almost looks like it's fairly finished, but there is still an awful lot of work to go on the bridge itself and certainly on the approach roads," said project services manager Bryce Carter.
Although 10 of the new $47 million bridge's 15 piers have been built on piles sunk up to 50m into the bed of the Waihou River, Mr Carter said the agency and its contractors were only halfway through their three-year programme.
Even if the bridge could be completed ahead of schedule, the project would remain at the mercy of soft soil on each bank of the river, which had to be compacted gradually.
"With the approach roads, we don't want them settling after we've opened it [the bridge] - it's worth taking the time to make it right."
The ground has sunk more than a metre under the load, but needs to reach the two-metre mark before the 2.5km of approach roads can be completed.
Mr Carter said that was expected to happen next summer, so the 580m two-lane bridge could be opened in about the middle of next year.
"It is going to programme and we are still pretty confident of the mid-2012 date," he said.