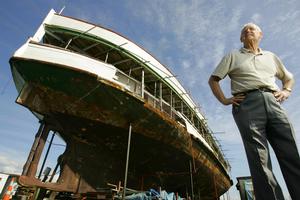 Jim McPhillips, Auckland Observatory director, ferry boat restorer. Died aged 74.
William James (Jim) McPhillips was a stalwart of the Toroa Preservation Society, a group set up to restore Auckland's last double-ended steam ferry.
The Toroa and her sister ferry the Makora between them carried 20,000 passengers a day between Devonport and Auckland city. The Toroa was retired in 1980 and the New Zealand Maritime Trust took over ownership from the Devonport Steam Ferry Company.
The preservation society was set up to supervise the restoration of the Albatross-type ferry. Things were going well until the Toroa sank at Birkenhead Wharf during a storm in 1998.
Society spokesman Peter McCurdy told the Western Leader that Mr McPhillips was part of the rescue operation.
"It was touch and go whether the boat could be salvaged, but he helped rescue it. He helped pull it all together."
"Jim was the glue that held the project and the society together," said Mr McCurdy.
And despite the setback of the sinking, Mr McPhillips was optimistic about the eventual outcome for the old girl.
"She doesn't look a very pretty sight. Wave action ripped off most of her top deck," he told the Herald in 2003.
"But she is in really good restorable condition and could bring enjoyment to passengers for at least 50 years."
The Toroa is presently hauled out at Selwood Rd in Henderson, and restoration is continuing on her hull and engine. Mr McPhillips' involvement with the sea and boats was enhanced when he worked as an electrician with the then Auckland Harbour Board.
He gained his New Zealand Certificate in Engineering, and worked with engineering firm Mason Mesco.
He held a number of managerial positions in the company before being appointed director of the Auckland Observatory and Planetarium in 1993.
The job was demanding, with funding a continual problem, and the threat of closure ever-present.
The planetarium opened in 1997, and struggled in the battle for the leisure dollar with attractions such as Kelly Tarlton's and the Sky Tower.
Support from Auckland City Council and volunteer guides meant that the Stardome could still help educate Auckland's residents and students.
Mr McPhillips retired from the Observatory in 2000, having been the acting chief executive.
His retirement allowed more time for Toroa restoration, a passion that his wife believed kept him active.
"He couldn't just sit at home and read. I think it was the Toroa that kept him going for as long as he did. He loved it."
Jim McPhillips served as treasurer of the preservation society until earlier this year.
He is survived by his wife Elwin, three daughters and two grand-daughters.