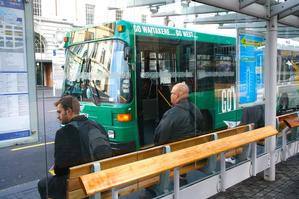 Buses will replace trains on Auckland's western line through Queen's Birthday weekend for the final push on the line's $420 million track duplication project.
From Tuesday, trains will be able to run in both directions over the 24km route between Swanson and Newmarket without having to wait for opposing services at passing loops along the way.
The completion of the project, which began in 2004, should end delays which have plagued passengers for many years and which resulted in only 36 per cent of western line trains arriving at destinations within five minutes of scheduled times in January.
KiwiRail will begin commissioning the final 3km section of duplicate track at 8 o'clock tonight between Avondale and New Lynn, meaning passengers will have to catch replacement buses over the holiday weekend.
Although normal rail services will run between Britomart and Avondale tonight, buses will replace trains from 7pm for passengers travelling to and from stations further west.
Buses will also continue to replace trains between Waitakere and Swanson throughout next week, to reduce the effect on network operations of rail speed restrictions through Avondale as KiwiRail completes signalling work on the new stretch.
KiwiRail spokeswoman Jenni Austin said yesterday that the signalling job was too large to be completed over Queen's Birthday weekend, so trains would need to slow down or stop while waiting for radio clearance to continue through sections ahead of them.
The signalling work should be finished by Monday, June 14, when passengers will also be able to start using a new station at Avondale. But passengers and others are warned to be extra careful when using level crossings in the area, because of the increased rail movements from trains running in both directions at the same time.