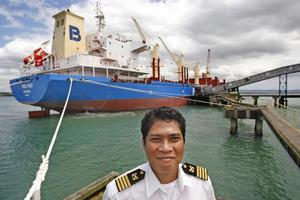 Chelsea Sugar Refinery is welcoming huge shiploads of raw materials to its Birkenhead wharf at a time when a resurgence in home baking has boosted demand for its products.
On its maiden voyage, the bulk carrier Tiwai Point was yesterday discharging 31,000 tonnes of raw sugar from the canefields of Queensland.
Fresh from a Chinese shipyard, its blue and white paintwork unmarked, the ship is the second of a new breed of vessel to bring the brown sugar crystals feeding the refinery in the past few months.
Captain Edgar Acosta showed refinery executives round the ship, which is part of Pacific Basin Shipping's fleet of "handysize" versatile dry bulk carriers.
A hydraulic grab swung from one of the vessel's four deck cranes brought 12 tonnes of sugar from the cavernous holds in one bite.
After the Christmas shutdown for plant maintenance, refinery workers face a further year of trying to meet the rising demand for products in New Zealand, Pacific and Asian markets, especially Japan.
The shift back to traditional home baking had been helped by the recession and need to save money, said NZ Sugar Company general manager Bernard Duignan. But part of the 5 per cent rise in domestic demand this year was due to promoting new easy ways to bake, make jam and preserve fruit.
"It's driven by consumers saying they want some control over their food."
He said the lift in sales was encouraging with the Chelsea refinery going for 125 years and enduring the competition of an open market for two decades.
"New Zealand people are free to bring in sugar from Malaysia or Thailand so Chelsea is here on its merits. The economics of manufacturing here in New Zealand are very good and for that reason we will continue to be here for a long time to come."
Food and beverage producers are the main customers of the refinery, which employs 240.
Mr Duignan said yesterday's sugar delivery was one of the largest in the refinery's history and the Tiwai Point was only the second ship to dock at Chelsea on a maiden voyage.
Shipments come from Queensland every four to five weeks.
TIWAI POINT
*Length: 179m long
*Cargo capacity: 32,000 tonnes
*Top speed: 14 knots
*Crew: 24
*Value: US$27 million
*Owner: Pacific Basin Shipping, Hong Kong