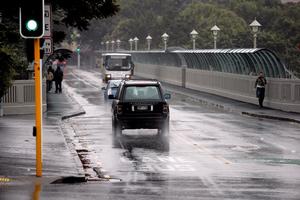 Hundreds of drivers have been hit in the wallet for flouting new bus-only rules on Auckland's Grafton bridge - with more than $124,000 in fines issued in five days.
The bridge has been closed to general traffic between 7am and 7pm Mon-Fri since October, but parking officers only began issuing tickets on Monday.
Auckland City Council said 831 infringement notices were issued this week, at $150 each. That equates to almost $35 a minute during bus lane times.
Permanent signs outline restrictions and council parking group manager Rick Bidgood said enforcement followed two months of education and advertising.
That has seen the number of cars breaking the rules drop from 100 an hour two months ago, to fewer than 200 a day.
And Bidgood expected numbers to fall even more quickly following this week's sting.
"Normally, when you introduce a new bus lane there is a low level of compliance, but it starts to increase dramatically when people receive infringement notices."
Drivers crossing the bridge during bus-only hours in October and November were sent warning letters.
The grace period was stretched to two months because it's the only Auckland street where cars are banned entirely during bus lane times.
The century-old bridge reopened in October after strengthening work to ensure it holds up under the weight of hundreds of buses a day.
It will form part of a new rapid bus transit route between Newmarket and downtown Auckland.
The route is largely complete, with remaining work on upper Symonds St and Park Rd due to finish in January.
Campaign for Better Transport spokesman Cameron Pitches said the transit route was an "essential project".
"Buses are going to travel in a relatively congestion-free environment. It's going to cut down travel times from Auckland city to the hospital and through to Newmarket."
Council transport committee chairman Ken Baguley said some motorists may have been confused because the bridge reopened early, before the transit route began operating.
The council had been lenient for two months and the change would be more apparent now more buses were using the bridge.
"I think it's a good project and it's been pretty favourably received."
The council has issued 5770 tickets worth $865,500 for illegally driving in bus lanes in the past four months.