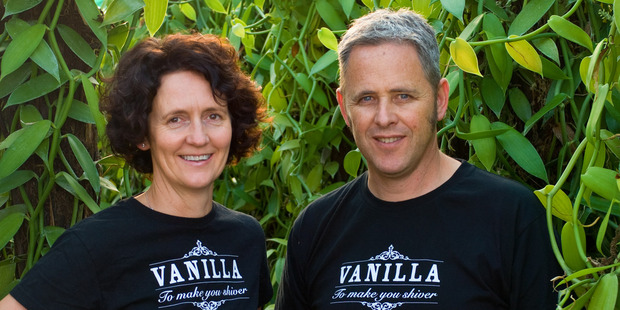 Coping with distance from markets
Since New Zealand is the most remote developed country in the world it takes longer and costs more for our exporters to get their goods and services to market. This means exporters' success is more than anywhere else dependent on the quality of their connections with the rest of the world.
So it's not enough to have just any distributor or agent acting for you in overseas markets - you need the very best you can find. And exporters need to be constantly reviewing how they can add knowledge and service value to physical products.
Jennifer and Garth Boggiss, of Heilala Vanilla, Te Puna. It's an ambitious goal but many of our export champions are growing rapidly, with some increasing their sales by 30 per cent year-on-year.
Our largely small and medium-scale businesses are the key to driving the export growth we need to sustain employment and our communities.

Modtec
Integ Workspace Productivity Tools designed in Silverdale are proving a hit in Singapore, China, India and elsewhere. Clients include Singapore's Ministry of Education and Malaysia BT. Another client, Cisco, uses Modtec's Apollo 6 arms to desk-mount their 42-inch monitors.
Luxury carmaker BMW chose Modtec's Integ Workstations to aid productivity at their new plant in the Northeast China city of Shenyang. In India, Modtec's success is with leading financial services players Royal Sundaram Allianz, Credit Suisse and Deutsche bank which seek Modtec's ergonomic and productivity benefits.
Hairy Lemon
The web development company has just secured several large contracts out of LA, one in excess of $150,000, involving large, complex websites and several thousand hours of work. Two clients are Giant Studios, who provide special effects for the film industry and the National Association of Television Programme Executives.
New Zealand Avocado
In 2012-13 Singapore became the largest Asian market outside of Japan. Volumes predicted are up on the initial crop flow estimate and are now 102,000 trays, which is rated as extremely positive for the industry as it seeks to develop markets outside Australia.
Compac Sorting Equipment
The project that won them the Auckland Export BDO Deal of The Year Award in 2012 has started production. All the equipment for this US$16 million ($19 million) Paramount citrus purchase is produced by the Compac Group. They've sold the largest cherry sorter in the world, which will be installed in Stockton, California.
Heilala Vanilla
Heilala Vanilla is well on the way to achieve their mission to become a globally recognised premium vanilla brand with distributors signed up in Brazil and Japan, and first orders there dispatched. Both distributors are a perfect fit for Heilala as they distribute gourmet food ingredients to retail, food service and food manufacturers. They complement Heilala's presence in Australia, Singapore, and the US. The latter has delivered good traction lately with representation at several premium retail store groups including Bristol Farms, Whole-foods Northern California, Dean and Deluca, and Williams Sonoma. Heilala has its own warehouse facilities in Melbourne and LA.
BCS Group
BCS' early focus on Asia-Pacific for its growth is proving a winning strategy. Over the past year the airport baggage-handling technology company has won a large contract in Macau, opened an office in Kuala Lumpur, secured airport upgrade contracts in Vietnam, the Philippines, and Papua New Guinea, completed a major upgrade at Melbourne International Airport, and rolled out its revolutionary self-service check-in via kiosk from its New Zealand origins through to an Air NZ assisted bag drop at Sydney airport. With the beginnings of an upturn in the US now starting, and a recent large win in Mexico, BCS has opened a service office there.
Trenchit
Trenchit is excited by the recent signing with a new US distributor after 10 years of R&D, testing and design of their unique trenching machinery. They've sent a first container of trenchers due to arrive there in time for the biggest US turf trade show in Daytona. The chance to break into the US market on the back of a recognised company is huge and could shortly represent 70 per cent of their turnover.

The 40 per cent File highlights the huge variety of Kiwi ingenuity, innovation and export success. (For more export success stories go to www.facebook.com/hookedonexport).