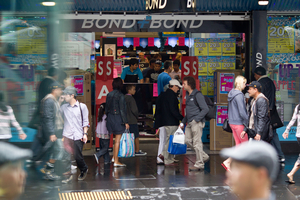 Shoppers took to the Boxing Day sales with gritted teeth yesterday, battling full carparks, queues and crowds to snap up bargains.
Malls reported lines of eager shoppers waiting for the doors to open at 9am.
The miserable weather was no doubt a factor as people chose to hit the shops rather than the beach.
Traffic was one of the biggest headaches - cars were nose-to-tail for more than 500m from Westfield's St Lukes mall in Auckland, while the motorway was backed up a similar distance at the Sylvia Park exit.
When the Herald visited St Lukes, it took more than half an hour to get a park, and only after a man led the way to his soon-to-be-empty space.
Some shoppers reported circling the carpark for up to an hour before finding an empty spot.
Avondale woman Isla Holding was one of the luckier ones - with her friend Nicole Zoias and her friend's mother, Donna Nairn, she arrived at 11am and got a park right away.
However, the queues inside the stores caught them. "It doesn't actually take you very long to find something, but then you have to wait to buy it - that's what's taking so much time," Ms Holding said.
The group were in for a big day of shopping - by 2.30pm they had managed to tackle only the mall's lower level.
Ms Nairn said they had found the bargains were "really good".
Westfield spokeswoman Deb McGhie said all the firm's centres had been very busy - particularly Riccarton, Albany and St Lukes, which all had queues before they opened.
"Some of the stores put barriers up to help manage the crowds," she said.
And it wasn't just the malls that were taken over by Boxing Day sale fever. Assistants at Rubi Shoes on Queen St yelled their bargains into the flow of shoppers, while Wild Pair and Lippy completely covered their windows with sale banners.
And for the first time in its more than 130-year history, Smith & Caughey's opened on Boxing Day with bargains to rival its hallowed winter sale.
The city's premier department store is offering up to 50 per cent off its range for three days.
But for those not brave enough to tackle the bargain hunters in the mall, there are deals to be had online.
Between lunchtime on Christmas Day and yesterday morning, more than 20,000 new items had been posted on Trade Me.
Trade Me spokesman Paul Ford said there were "regular offenders" who routinely turned up on the site having missed the mark on Christmas Day.
"These are often over-ambitious purchases on the lingerie front by both men and women, and items like books, ties, handbags and kitchen appliances all commonly crop up."

Staying out of the red
It's very easy to go crazy during the sales at this time of year and get into the red on your credit card.
But a financial expert has offered some advice to those who find themselves with a large bill next month and no idea how to pay it.
Director of Financial Clarity Jill Porter said many people overspend in a number ways, such as:
• Going mad on over-the-top gifts because no planning has been done about what to get and for whom.
• Buying the latest and greatest toys, gadgets and electronic devices for the kids because "that's what all the kids are getting".
• Buying the top-of-the-range food and booze, because the family are coming and you want them to know how good you are, and to like you.
• Getting a huge pile of presents for the kids because you want to make up to them for what you didn't have when you were a kid.
• Fancy and expensive clothes to look good or impress others.
• Over-the-top generosity to others, for example, hospitality, gifts when none are required, generosity at the bar or the restaurant.
• Spending to keep up with the Joneses.
• Taking a holiday somewhere that you can't afford because you've worked hard and deserve it.
• Putting it all on the credit card, because none of it is planned for and the money isn't there right now, but Christmas is, so we'll sort it out in the New Year.
• Ms Porter said the best way to avoid debt was to make a savings plan to keep track of every time you swipe your card.
"Especially at this time of year, it's important to keep on top of your spending because it's already so expensive as it is."