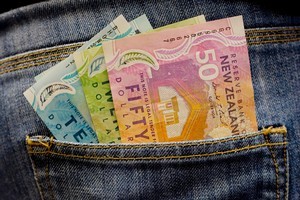 The New Zealand dollar hit its highest point since the early 1970s yesterday, driven by US dollar weakness and signs that the domestic economy is in much better shape than many had expected.
The local currency hit US85.72c - its highest point since floating in 1985 and up 19 per cent since March. The kiwi had also hit a record post-float high against sterling, trading at 53p.
By yesterday's close, the kiwi had retreated a little to US85.40, but currency strategists said it was likely to push higher while US dollar weakness persisted and the New Zealand economy continued to surprise.
"We have strong confidence that we are not going to see a u-turn in our economic recovery, so that is going to be on track for some time," Westpac chief currency strategist Imre Speizer said.
"That's the easy part of the prediction. The hard part is knowing what goes on offshore," he told the Herald.
If the currency went over US86c, Speizer said it would have "gone beyond what anyone could have imagined".
Data showing both economic growth and inflation were tracking higher than expected and this was feeding into the interest rate markets, which in turn was making the currency look more attractive to overseas currency speculators.
BNZ currency strategist Mike Burrowes said the stronger-than-expected consumers price index, which rose by 1 per cent in the June quarter, was "the straw that broke the camel's back".
He said the reasons behind the kiwi's strong performance against the British pound were similar to those for its strength against the US dollar. Britain, like the US, is facing fiscal austerity measures and its economy is showing signs of faltering.
Concerns continued to mount in the US over whether the Government could reach a deal to increase its borrowing authority and slash the nation's deficits over the next 10 years in a bid to stave off threatened credit rating downgrades from the three main agencies - Standard and Poor's, Moody's and Fitch.
Closer to home, the interest rate market was coming around to the idea that there could be two rate rises from the Reserve Bank this year, as opposed to what had generally been expected to be just the one, in December.
"We have a house view that the US fiscal situation will assert itself even more on the US dollar than it has done, and that the long-term outlook for the currency is fairly weak," Westpac's Speizer said. "But in the shorter term, if something gets resolved, you should see the US dollar rise on the back of it," he said.
Currency markets will be keenly awaiting the Reserve Bank's next decision on its official cash rate next Thursday. The rate sits at 2.5 per cent.