Aussie actor counts Jane Campion project as one of the most rewarding in his career.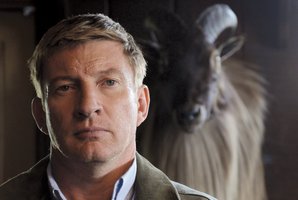 Having played Faramir in The Lord of the Rings, Australian actor David Wenham knows his way around the Queenstown area.
But his return was to a bigger role in a smaller production by another celebrated Kiwi director.
Top of the Lake, the six-part drama from Jane Campion, is a moody and compelling mystery that evolves into a rich, complex character study and brings together a variety of behind-the-camera talent and a stellar cast.
Wenham plays Laketop's top cop, Al Parker, who must investigate the disappearance of the 12-year-old daughter of a local drug baron while also dealing with Robin Griffin (Mad Men's Elisabeth Moss), the police officer specialising in child protection called in to investigate.
"Al enjoys his job and has a genuine concern about what goes on in his community," Wenham says.
"But his station is a bit old-school, a bit of a boys' club, and the community comprises a very mixed, eclectic group of characters - there are a fair few fringe-dweller types.
"And then when Robin arrives at his station, well, she's young, female and attractive in a world that's not really used to that kind of energy.
"It's fair to say Al finds himself somewhat attracted to her, which makes things even more difficult.
"It's quite a strange community in many ways, which makes this really interesting viewing."
Wenham is quick to praise Campion and co-screenwriter Gerard Lee for their screenplay.
"She has the ability to ... bring humour to material that is very dark. She can find interesting quirks of humour in the most unexpected environments and situations. That's an incredible skill and I'm in awe that someone can articulate it so well."
He says there's a wealth of "delicious drama" in Top of the Lake, ranging from Robin's homecoming to the conflicts that emerge in Laketop's various factions and splinter groups.
And its six-hour duration allows the series to dig deeply into all these plots. Wenham feels this is one reason why so many creative people are turning to television as a storytelling medium. "I'm increasingly seeing material that's not only comparable to, but often exceeding feature films.
"Jane has said before that this couldn't be made as a feature film - having six hours to actually explore this story really gave her the options to do exactly what she wanted to do. "And I think more and more that's the case these days - you have very talented people opting to work in TV rather than film because they have the ability to fully realise their stories with fewer outside influences fiddling with their work."
Wenham counts the project as one of the most rewarding of his career. "I was really proud to be part of it."
TV profile
Who: David Wenham
What: Top of the Lake
When and where: Tonight, UKTV 8.30pm
-AAP