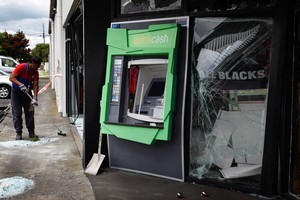 A gang of thieves is using stolen 4WD vehicles to smash through walls and rip cash machines from Auckland service stations and shopping centres.
Police say the culprits could be responsible for several ram-raids that have caused "extensive damage" over the last six months - but resulted in little cash being stolen.
The Herald understands the raids are the work of a criminal group who steal 4WD vehicles and use them to plough through walls to get to the machines.
Acting Detective Inspector Pete Jones would not be drawn on how many raids had been reported, or the locations.
But he said police were looking into whether they were linked, and officers were hunting at least two offenders.
"There has been considerable damage done, but not a great deal of monetary value taken."
He said two people had been arrested in relation to ram-raids, one on Friday morning after an ATM was targeted in Manurewa.
Police were called to SaveMart on Browns Rd just after 2am after people heard a "loud bang" and saw a 4WD ramming into the front of the building.
"A member of the public heard a loud noise and then saw a grey 4WD smash into the front of the SaveMart in an attempt to dislodge the ATM," Mr Jones said.
"When police arrived at the SaveMart, the 4x4 rammed their unmarked patrol vehicle and attempted to escape through the Browns Rd exit of the complex," Mr Jones said.
The thieves were not able to access the ATM, which was still cordoned off and damaged hours later.
"Ahead of the grey 4x4 that was used to ram the front of the shop were ... two white vehicles. These two vehicles managed to flee police."
Police pursued the 4WD through South Auckland for 21 minutes. The police Eagle helicopter and dog section were also called in to help.
The driver then got out of the 4WD and tried to flee on foot. He was caught by a police dog handler nearby.
Mr Jones said the 39-year-old driver was arrested and charged with four counts of burglary and three of unlawfully taking a motor vehicle.
"We think there are at least three suspects still outstanding, we are also still seeking information about the other two vehicles described by witnesses, the white Nissan Skyline or Subaru and the white people-carrier," he said.
The Counties Manukau police major crime team was investigating a series of ram-raids in the district and Mr Jones said Friday's incident would be investigated to determine whether it was linked.
A source said the series included similar ram-raids on ATMs at Mobil petrol stationsin Mt Wellington and Mangere early this month.
Mr Jones said the other incidents were in the Manurewa and Otahuhu areas. All were targeting ATMs.
"At this stage two individuals have been arrested and charged with a number of counts of burglary. It is too early to say if there is a link, we are still doing the initial investigations," he said.
Mr Jones said police were going through CCTV footage and until that was done, there was no solid description of the thieves.
He was appealing to the public to help police identify those involved.
The recent incidents follow a high profile police operation in 2009 set up to catch a group of career criminals who were stealing high-performance cars to use as getaway vehicles in a string of ram-raid burglaries across Auckland.
Dressed in black, the men drove stolen late-model Holdens and Falcons to ram holes into warehouses or industrial buildings, take high-end goods in well-planned raids, then flee the crime scene at speed.
Those raids were said to be remarkably similar to a spate of audacious burglaries committed between October 2004 and March 2005 by the underworld crime ring the Kings of Auckland.
Mr Jones said anyone with information about any of the ram-raids in South Auckland in the past six months should call the Counties Manukau police major crime team on (09) 263-1300 or provide information anonymously by calling Crimestoppers on (0800) 555-111.