Critically acclaimed play second production for group carving out niche on CBD fringe.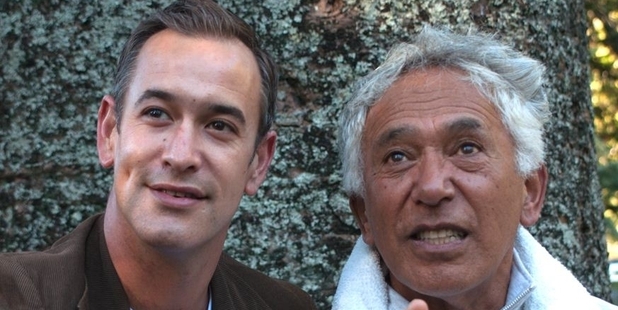 Actor George Henare will be the patron of one of Auckland's newest professional theatre companies, Newmarket Stage Company, and to celebrate he is playing a lead role in its second production, Tuesdays with Morrie.
It is the first time the play, based on former journalist Mitch Albom's book and scripted by Albom and Jeffrey Hatcher, has been staged in New Zealand and comes 12 years after its critically acclaimed New York debut.
Henare chose it from four scripts given to him by NSC artistic director Adey Ramsel. He says it appealed because of its gentle examination of the human condition and advice for making the most of life. Ramsel says securing the rights is a boost for the company which eventually wants to stage up to three plays a year.
The company's debut production, Educating Rita, starring Henare and Jodie Hillock, was a great success and, says Ramsel, proved a professional theatre company on the fringes of Auckland's CBD can thrive.
He says the Newmarket Business Association's support for the company shows it appreciates the economic and social boost the arts can provide to a community.
An autobiographical story which has resonated with readers and audiences worldwide, Tuesdays with Morrie is set in the early 1990s, around 16 years after Albom graduated from Brandeis University. Having abandoned his failing career as a musician to become a journalist, Albom contacts his beloved college professor Morrie Schwartz after seeing him on television.
Schwartz is dying so Albom decides to visit and, for the next three and a half months, comes by each Tuesday to spend the day with his former mentor. As Schwartz deals with his impending death, Albom confronts his increasing dissatisfaction with his career-oriented lifestyle and popular culture.
Henare plays Schwartz, a role he says he has long been interested in, while Jason Te Mete is Mitch Albom. Often working behind the scenes as a musical director, Te Mete appeared in Okareka Dance Company's K Rd Strip and has worked on a number of musicals directed by Ramsel.
"I had long been on the lookout for a script which would be good for Jason and when I came across Tuesdays with Morrie, I thought, 'this is the one because whoever plays Mitch needs to be able to sing, play the piano and act' and I knew I'd get George to play Morrie so there was no need for auditions," says Ramsel. "Many may remember the book as [quite] inspirational and heavy but rest assured the play has a much lighter side."
Te Mete says the two-hander is a first for him, but he's delighted by the scope of the role and, like Henare, loves the play's uplifting message.
Theatre preview
What: Tuesdays with Morrie
Where and when: Factory Theatre, Newmarket, June 5-21 with an 11am matinee Tuesday June 17.