Mangere's Nick Afoa is wowing Sydney audiences with his Simba the Lion King.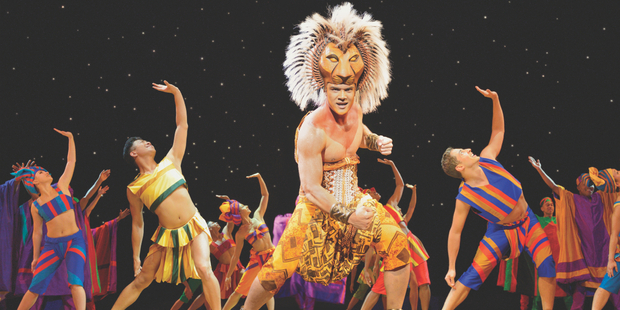 The Lion King is one of Disney's best-known animated movies. The tale of Simba, a lion cub lost in the wilderness before he finds his family and his place in the world again, is a story with universal themes and appeal.
Following on from the success of the 1994 movie, in 1997 Disney Theatrical added another layer of magic to the story-telling with the debut of The Lion King stage show. It's been on Broadway continuously since late 1997 and in London's West End since 1999.
The Lion King's music is by Elton John and Tim Rice and has incredible costumes, masks and puppets designed by American Julie Taymor (who is also the director). The musical has now been performed in eight languages in several countries to an audience of more than 70 million.
It's now Australia's turn again, and Sydney's Capitol Theatre has hosted The Lion King since last December, a decade on from when Kiwi Jay Laga'aia starred as Simba's father, Mufasa.
The show has enjoyed an immensely successful run with packed houses, but not for much longer. Final tickets are on sale now and the last Sydney performance is on August 31. Then, the multitude of props, costumes and puppets will be packed into 10 trucks and 16 rail containers bound for Brisbane, where the show will run at the Lyric Theatre at Queensland Performing Arts Centre from September 27. In February, the show opens at Melbourne's Regent Theatre.
Eight New Zealanders are among the international cast and crew, including the lead role of Simba, performed by Mangere's Nick Afoa. The 28-year-old former rugby player and social worker at St Joseph's School in Onehunga now has a vastly different life in his first professional theatre role, for which he and his new wife Kimberley shifted to Australia.
Afoa says he has fallen in love with the stage and acting. He has always been a singer, after learning to stretch his vocal chords as a schoolboy at church and gaining confidence by singing national anthems at rugby test matches, most notably the Rugby World Cup in 2011.
But the influence of people like "Uncle Scar", Sydney actor Josh Quong Tart, who plays Simba's villainous uncle, has given Afoa the acting bug. Although he doesn't know where his career will take him after The Lion King, Afoa hopes it will be acting and performing somehow and somewhere, if not on stage then perhaps in film or television.
There are no plans to move back to New Zealand. Although he misses family a lot,
"Australia is a nice play to be for stage work".
He wants to take the opportunity he has been given and take it as far as he can.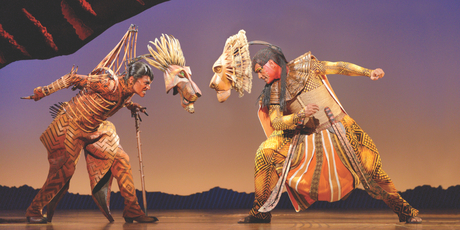 The show's schedule is demanding - two performances on Wednesdays, Thursday and Friday nights, plus matinee and evening performances on weekends. Mondays and Tuesdays are days off. Despite the fact the performers say the same lines and follow the same choreography every show, Afoa says "the scenes can be different sometimes, depending on the actor you're working with".
The changes aren't obvious for audiences, but it keeps things playful on stage when "an actor might be in a different mood and things escalate differently in terms of emotion and intensity".
The actors all feed off each other this way, particularly Wellingtonian Jamie McGregor who plays the hilarious meerkat Timon, and Russell Dykstra, a warthog with a flatulence problem.
"Even Scar, he's pretty funny on stage," says Afoa, who admits that occasionally it has taken willpower "to hold it together".
Quong Tart, who starred as Miles Copeland in Home and Away, has a reputation as a champion prankster, which seems to be in keeping with his role as the devious Scar.
"He's good at scaring people," says Afoa.
"Part of it is his timing as an actor. I am going to have to stay away from him now he knows I hate spiders."
Frustratingly for Afoa and his colleagues, Quong Tart is not easily scared, but for his prank victims, pay-back is a plan in progress.
Speaking about the youthful performers who star as young Simba and Nala, Afoa says he's "in awe of what they do". As Afoa has four younger sisters he's used to being around kids and "telling them what to do", but says the performers "have a lot of support". He will find himself chatting to whichever boy is playing young Simba as they're having their makeup done.
Afoa's makeup has to be done in stages - his Samoan sleeve tattoo is covered over first and needs to dry for an hour. While this happens he does some vocal warm-ups.
Afoa has learned to rest on his days off.
"When I first started, the hype and excitement were there and I would go out and have fun on my days off."
He soon learned his downtime is best used resting and keeping quiet to keep his voice in optimum condition.
"Mondays and Tuesdays are like our weekend. So I spend Mondays doing nothing and not talking - my poor wife. Then Tuesdays I spend time with my wife and do some vocal warm-ups so I can get rolling again for the week."
Because each performance is like a "full-on cardio session", Afoa doesn't worry about maintaining his buff physique, an integral part of Simba's stage presence as a powerful young lion. He works with weights to hone his chest and arms and his chest is also waxed regularly, a painful but necessary part of how he needs to look on stage.
With his Pacific background, Afoa says he has always been able to move, but he has learned to bring a graceful side to his movements, something that wasn't on the radar at high school on a sports scholarship to King's College.
"It's a school not known for its hip-hop crew," he jokes.
All performers are appraised by a vocal coach, director and dance captain, but Afoa says most of his time is with the dance coach. As well as regular yoga, Afoa stretches for half an hour every day.
"I will never be as graceful as the dancers in our cast, but I can learn to use my physicality."
Wearing his carbon fibre and horse-hair head-piece, Afoa demonstrates how small movements with his neck and shoulders can express emotion, without a word uttered or note sung. Sometimes he will find himself practising these movements in the mirror on his days off.
"My wife will tell me to snap out of it and that I am not at work," he says with a smile.
Just like Simba, Afoa has discovered where his true home is.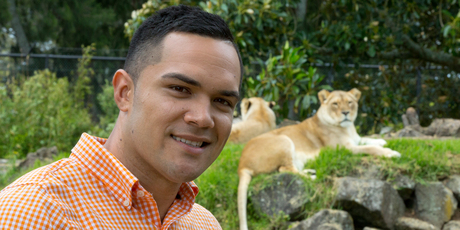 NICK AFOA'S SYDNEY TIPS
Coffee: much to his cast mates' mirth, Afoa buys his coffee at Pie Face, a pie and coffee franchise. "They're everywhere."
He has also been known to eat the odd late-night pie after a show. "But I have to watch that to some extent, because it can affect my voice - reflux."
Dinner: The Capitol Theatre is near Sydney's Chinatown and the area's Asian restaurants are popular with the cast and crew for a meal out.
Day trip: Afoa likes to catch the ferry to Manly or head to Coogee Beach.
See The Lion King in Australia
• The Lion King is playing at Sydney's Capitol Theatre until August 31 and at Brisbane's Lyric Theatre at QPac from September 27 until January 25, 2015. Tickets priced from $50 to $150. Visit wotif.com for show ticket and travel packages.
• The Lion King will be performed at Melbourne's Regent Theatre from February next year. Show tickets and travel packages available on wotif.com from August.
Further information: See disney.com.au.