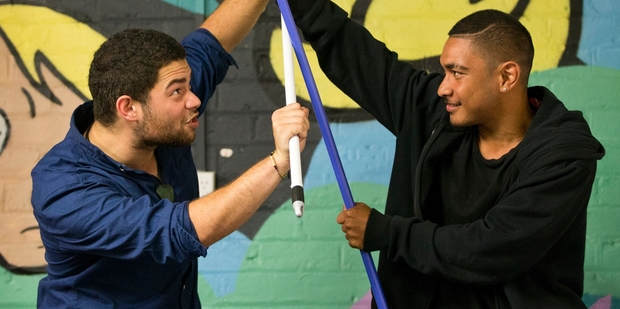 Otara teenager Sipa Deidoe had never been inside a theatre until he came into the Aotea Centre for a first meeting about a new arts project late last year. Today he will step out on the stage of the centre's Herald Theatre to tell his life story.
Sipa, 16, dropped out of Tangaroa College after a final warning for repeated wagging and getting high on cannabis.
"I kept on hanging out with the wrong crowd," he said. "I didn't like school - bad influences. We used to wag at the back of the school on the field."
Today and tomorrow night he will be one of seven "Y-NEETs" - young people not in employment, education or training - who will tell their stories in two free shows in the plush Herald Theatre through a unique collaboration with professional actors who have been their mentors in a project called Manawa Ora (healthy heart).
Sipa's mentor, Vinnie Bennett, will joust with him on stage in a dramatic lead-in to Sipa's story. "Born and raised in Southside," Sipa's story begins. His Tuvaluan mum and his Nauruan dad came from the islands so he could be born here, then took him back to Nauru as a baby. They brought him back to Otara when he was 3 and left him with his aunty "because they wanted me to have an education".
"I always remember missing my parents," he says in the show. "When I was 5, they came here for my birthday, and on the first day of school they left me again for the islands. I never saw them again.
"When I was 10, my mum died. I didn't know how to feel about it."
His life turned up when he left Tangaroa. Otara's other high school, Sir Edmund Hillary Collegiate, refused to take him and referred him to an alternative education course run by Sully Paea's visionary Crosspower Ministries.
"I just changed from there, because my tutor always taught us respect," he said. "Every day there was a lesson - just taught us to respect everyone."
Former tutor Sarah Longbottom, who now runs the Nga Rangatahi Toa arts programme which initiated Manawa Ora, came to his class seeking volunteers for an early project two years ago.
"I said I'm interested because that's what I like doing - art," he said.
Ms Longbottom said Sipa was "a very gifted visual artist".
Sipa has enrolled in a visual arts course at Manukau Institute of Technology this year and aims to become a tattooist.
"I draw on all my friends," he said. "I draw it with a Vivid (felt pen) or something - patterns, dragons. I want to have my own shop in Otara."

• Manawa Ora, Herald Theatre, Thur and Fri Jan 23-24, 7pm, entry by koha. Tickets: Conch Records, 115 Ponsonby Rd, or email manawaora2014@gmail.com and collect tickets at door.