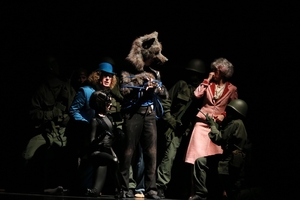 The best thing about the Royal New Zealand Ballet's biennial travelling show is getting up close and personal with performances in smaller venues.
While some of the magic - fancy sets and other sophisticated accoutrements - are by necessity stripped away, there is a new appreciation to be had of the raw essentials: beautiful bodies displaying to perfection the minute muscular detail of their art.
In the first half of the 2013 vintage tour, five separate duets explore aspects of love in five very different choreographic voices. Taken separately, the excerpts from larger and longer works seem a little discombobulated. But as a composite programme they form an interesting smorgasbord of relationship studies.
First up is Flower Festival at Genzano, by Danish choreographer August Bournonville, made in 1858. Kohei Iwamoto catches perfectly the Bournonville style, with crisp, clean footwork, an elegant carriage and effortless leaps and jumps, prettily partnered by Mayu Tanigaito.
Then comes the Charlie pas de deux from Ihi Frenzy, Mark Baldwin's embodiment of Split Enz' rather dark tune. Beautiful couple Maree White and Loughlan Prior capture the tension of the original song with finesse and subtlety.
Antony Tudor's Little Improvisations, from 1953, works through the medium of two children playing in an attic and the possibilities of a single piece of cloth. Katherine Grange and Iwamoto again play it with precision and an absorbing charm.
Through to You comes from New Zealand choreographer Andrew Simmons' gorgeous work that premiered in Tutus on Tour in 2009, and Abigail Boyle and Paul Matthews capture every nuance of its spiralling beauty.
The famous wedding pas de deux from Petipa's Don Quixote drips with Russian passion and formal style. Helio Lima and Bronte Kelly nail the big lifts and fouettes, and almost manage the heavy drama of the piece.
The second half is occupied by Cat Eddy's and Brendan Bradshaw's newly created version of Peter and the Wolf, a raucous romp through Prokofiev's famous score, updated for current Kiwi conditions and brimming with creative ideas and some great costumes. But it perches uncomfortably between kiddie hour and some place else, and badly needs some deft restructuring to reach its potential. And that wolf definitely needs to regurgitate the poor duck, immediately!
Tutus on Tour
Where: Q Theatre Auckland
(Bruce Mason Theatre, Takapuna, October 30-31; Vodafone Events Centre, Manukau, October 30; Hawkins Theatre, Papakura, November 1; Green Bay High School, Green Bay, November 11)