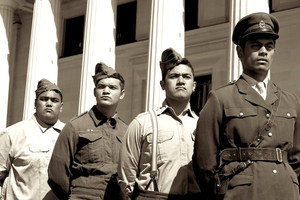 The resurgence of interest in New Zealand's military history - evidenced by the numbers attending Anzac services in recent years - means fresh stories continue to be brought to the stage.
Samoan playwright David Mamea's Goodbye My Feleni is a case in point. It pays tribute to the handful of Pasifika soldiers who served with the 28th Maori Battalion in World War II. The play joins a growing canon of dramatic work about New Zealand military history from a Polynesian point of view, which includes Paolo Rotondo and Rob Mokaraka's Strange Resting Places, Briar Grace-Smith's Haruru Mai, and Hone Kouka's Nga Tangata Toa.
This is the first play to look at WWII from a Pasifika perspective. Mamea says he always thought a small number of Pasifika soldiers would have seen action with the New Zealand armed forces, but this wasn't confirmed until a few years back when he was listening to a Maori Battalion CD. "Then I heard someone talking in Samoan introducing two Samoan songs and something pulled right away at my heart, that 70 years earlier and halfway around the world, four young Pasifika men sang of their homelands and their fears, and risked their lives for the world we have today.
I knew I had to write something about that."
Mamea says he did "as little research as possible", describing his duty as a playwright to bring an emotional truth to the story. Historical accuracy, he says, is a bonus. "I'm not teaching history, but telling a story and, to be honest, there isn't that much information available about the Pasifika soldiers."
Originally the story was a one-act play performed last year at the Herald Theatre as part of The 3UP, a series of performances featuring three plays by three emerging writers. Producer Jenni Heka, of Hekama Creative, says she was moved to tears by Goodbye My Feleni.
"I cried," she admits, "because these young men, who were probably around the same age as those who went off to fight, were singing these beautiful songs and of course we know now so many of these men never made it back. The story was so beautiful I urged David to develop it further."
Now a full-length play, Mamea says he stuck with the same characters: three enlisted men - a Samoan, a Niuean and a Cook Islander - who meet at the Papakura Military Camp in 1942 to begin training. The cast - new addition Taofia Pelesasa and Andy Sani, Leki Jackson Bourke and Samson Chan-Boon, who appeared in the original one-act version - have welcomed the chance to delve deeper into the characters and the story.
The play is set entirely at the camp where "the boys" are eagerly awaiting the chance to head overseas and have an adventure. They are, Mamea says, the naive and enthusiastic innocents about to be sent to the slaughter, which is not something they've thought about until a fourth man, battle-hardened and weary, arrives.
Tough questions are raised about the sacrifices men make when they fight for God, king and country - especially when the country is not their own. But there are moments of lightness, where Pasifika humour and songs are used to tell the tale. Mamea says he knew he wanted music as part of the story rather than the characters suddenly breaking out into song so uses four pieces of music, including the titular Goodbye My Feleni (Tofa My Feleni), which is a Samoan farewell song.
Pelesasa, Sani, Jackson Bourke and Chan-Boon say they have given the question about why the men fought a lot of thought, with Sani concluding they were motivated by the promise of being able to gain permanent residency and build a better life for their children - if they survived the war.
"So it's about family, brotherhood and hope for the future."


Performance
What: Goodbye My Feleni
Where and when: The Basement, April 16-25