Over the next few months children, from tots to teens, can immerse themselves in music, comedy and drama as they like it: loud and boisterous, writes Dionne Christian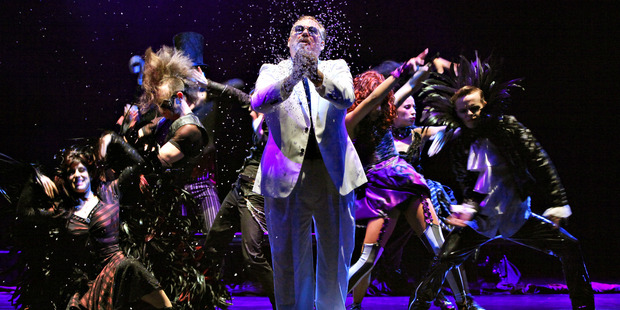 Kids are never too young to start gaining an appreciation of the performing arts and a family outing to a concert, stage play, dance recital or magic show is always time well spent. Some parents and caregivers fret about taking the young ones to live performances, fearing they will be disruptive but they needn't worry.
Productions designed with children in mind are usually boisterous affairs, with plenty of opportunities for the children to talk aloud, move around and contribute to the on-stage action. They tend to be shorter, too, to suit children's concentration spans and in venues that are wheelchair- and pushchair-friendly.
Here's our pick of some of the best to take the family to:
Classical music
The Auckland Philharmonia Orchestra's children's programme was one of the spurs for this story. Why? Because the APO's education programme, including public performances and its school partnership programmes, is among the most comprehensive of any Australasian performing arts organisations.
Education manager Lee Martelli says the aim is to introduce youngsters - and their families - to the magic of live orchestral performance. Given performances for kids have been part of the APO's brief since it began in 1980, it is expert at staging lively and entertaining shows of just the right length.
APO 4 Kids are hour-long concerts in which presenter Kevin Keys talks the young ones through sing-along, dance-along and conduct-along (with straw batons) performances, which are followed by walks through the orchestra to see the instruments up close. April's APO 4 Kids has A Day with Teddy theme and features classical tunes as well as a lively rendition of She'll Be Coming Round the Mountain and The Teddy Bear's Picnic. Shows (at 10am and 11.30am) are on Monday, April 22 at Manukau's TelstraClear Pacific Events Centre; Tuesday, April 23 at the Bruce Mason Centre in Takapuna and Saturday, April 27 at the Auckland Town Hall. All tickets are $15; look out for APO 4 Kids Christmas later in the year.
Tunes for Toddlers is a new addition to the programme in which small groups of preschoolers can "meet" an instrument of the orchestra, hear it played and listen to a story with musical accompaniment by that instrument. Places are limited so, for more information and to register, email leem@apo.co.nz.
Older children may enjoy the APO's Unwrap the Music series, which provides information and insights on specific composers and pieces of music for those new to music. Tchaikovsky's Piano Concerto 1 is in the limelight on Wednesday, June 26 at 6.30pm at the Auckland Town Hall and Haydn's Surprise Symphony (No 94) on Wednesday, September 25 at the same time and venue. Tickets range from $15-$25.
APO also holds open days, featuring a collection of free activities. These are held in south and west Auckland this year. Open Day South is from 1pm-4pm on Sunday, June 9 at TelstraClear Pacific Events Centre, while Trusts Stadium, Waitakere, hosts the APO on Sunday, October 13 from 1pm-4pm. See apo.co.nz for more or call (09) 638 6266 or email apo@apo.co.nz.
Founded in 1948, the Auckland Youth Orchestra bridges the gap between school orchestras and adult professional groups. It features musicians aged 14-26 who, this year, perform three concerts in and around Auckland. Life of a Hero partners Beethoven's Violin Concerto in D Major with Mahler's Todtenfeier and will be performed at Mahurangi College, Warkworth on Sunday, May 12 at 4pm; the Hawkins Theatre, Papakura on Thursday, May 16 at 7.30pm and the Auckland Town Hall on Saturday, May 18 at 7.30pm. See ayo.co.nz for more information on future shows.
Comedy
The NZ International Comedy Festival is on its way to Auckland (Friday, April 26-Sunday, May 19). Local and international comedians team up with magician Jarred Fell in a one-hour showcase of family-friendly funnies. Stand-Up for Kids is on at Q Theatre, Saturday, May 4, 11 and 18 at 3pm and adults get in for kids' prices. Meanwhile, The 5pm Project on Friday, May 3 (the last Friday of the school holidays) is designed for teenagers.
It's described as a "generational gap filler" between Stand-up for Kids and the more adult-orientated shows, and features comedians Guy Williams, Steve Wrigley, James Nokise, Jamaine Ross and James Roque.
See comedyfestival.co.nz or qtheatre.co.nz for more.
Dance
Now celebrating its 60th birthday, the Royal New Zealand Ballet has inspired generations of young dancers. This year, the classic ballet Swan Lake is at the heart of the company's programme and it glides into The Bruce Mason Centre from Saturday, August 17 to Sunday, August 18 and The Civic from Tuesday, August 21 to Saturday, August 25. Look out for matinees and discounted tickets for children. The RNZ Ballet will be back in town later in 2013, with its popular Tutus on Tour concerts which feature highlights and hits from its repertory plus a new production of Peter and the Wolf. Concerts in Auckland Central, Takapuna, Manukau and Papakura are on the Tutus itinerary. See nzballet.org.nz for more.
Auckland has visits from international ballet companies this year, too. Moscow Ballet performs the much-loved The Nutcracker at The Bruce Mason Centre on Friday, May 10 and at the Aotea Centre on Saturday, May 11 and Sunday, May 12. Ballet Revolucion comes direct from Cuba, combining contemporary dance, ballet, street dance and hip-hop in a show described as "ballet with attitude" and set to music from Usher, Shakira, Beyonce, J-Lo and Prince. It's at the Aotea Centre from Tuesday, June 11 to Sunday, June 16, with discounted tickets on Tuesday and Sunday. See the-edge.co.nz for details on both shows.
STOMP has toured the world for 22 years and returns to Aotea Centre from August 6-11. It's probably better suited to older kids who will enjoy the creativity of eight performers who use everything from supermarket trolleys to Zippo lighters, plastic bags, bin lids, and even the kitchen sink to hammer out loud, explosively feel-good rhythms. See the-edge.co.nz.
Magic
If you're reading this early, there's still time to head to the Amazing Magic Show with Vas Kovalski at the Waiuku War Memorial Town Hall, Queen St, Waiuku. It's a family show which explores the art of fire, magic and mystery and there are hour-long performances today at midday, 2.30pm and 6.30pm.
Meanwhile, what's described as the biggest selling magic show on Earth comes to The Civic from Wednesday, May 22 to Sunday, June 2. The Illusionists features internationally renowned grand master musicians and their assistants plus a live band. Show producers say it revolutionises the age-old art form and brings a contemporary twist to conjuring, tricks and illusions. See the-edge.co.nz for more.
On ice
They're back! The Disney Princesses return to Auckland's Vector Arena from Saturday, June 1 to Monday, June 3 in a new show: Disney Princesses and Heroes. The emphasis is on being brave, independent and living your dreams with stories of Little Mermaid Ariel, Sleeping Beauty, Cinderella, Jasmine and Aladdin, Belle, Snow White and Tiana told using skating, on-ice acrobatics and special effects. Disney's newest princess, Rapunzel, makes a (hair-raising?) appearance.
Tickets start from $28.50. See vectorarena.co.nz for more.
In July, Slava's Snowshow blows into Auckland. Following performances with Cirque du Soleil's Alegria, Slava Polunin created his own show which fuses traditional and modern theatrical clowning with stunning special effects including a snowstorm to whirl around the auditorium. As magical as it is, the show is recommended for those aged 8 years old and above because of the realistic snowstorm and blizzard scenes; not to mention a giant cobweb! See the-edge.co.nz or lunchbox-productions.co.nz for details.
OPERA
Newmarket-based Opera Factory is a training space for singers and a place where opera enthusiasts can share a love of music and performing. This month, children's opera The Little Sweep will rock the stage as it takes youngsters on a journey back to London in 1810 to tell the story of Sam, a young chimney sweep determined to make the most of life. Written by Benjamin Britten, the hour-long show features a cast of talented young performers and is suitable for all ages. The Little Sweep is on from Wednesday, April 24 to Friday, April 26, with shows at 2pm and 6pm at Opera Factory, 7 Eden St, Newmarket. Tickets are $20 for adults, $10 for children and the under 5s get in free. You can book at iticket.co.nz or on (09) 361 1000; for more information on Opera Factory call (09) 921 7801 or see operafactory.com.
Theatre
Tim Bray Productions has a reputation for quality adaptations of mainly NZ children's stories. These school holidays, the company reprises Margaret Mahy's Dragon of an Ordinary Family at the PumpHouse, Takapuna from Saturday, April 20 to Saturday, May 4 (no shows Anzac Day).
Children are encouraged to dress up as their own little dragon for an on-stage costume parade at the start of each show. See timbrayproductions.co.nz or pumphouse.co.nz for more.
It's all the rage to makeover traditional fairy stories, but Phineas Phrog Productions has been doing it for years. The company's bright and breezy interactive shows are great for the young ones. Three Billy Goats Gruff plays at the Bruce Mason Centre, Takapuna, from Monday, April 29 to Saturday, May 4 at 10.30am daily. See bmcentre.co.nz for more.
Dr Brown Brown Brown Brown Brown & His Singing Tiger comes to Auckland after winning worldwide acclaim. It takes audiences through an ordinary day - from breakfast to bedtime - in the life on one Dr Brown, who has a singing tiger for a companion. Dr Brown's day is far from boring considering it includes a ski race, tennis match and "slightly spectacular" BMX finale. It's madcap, physical comedy at the Herald Theatre, Aotea Centre from Wednesday, May 1 to Sunday, May 5, with shows at 9.30am and 11.30am. See the-edge.co.nz for more.
Want to do the monster mash? Head down to the Nathan Homestead Theatre in Manurewa from Thursday, June 27 to Saturday, June 29 for the family rock'n'roll musical The Rocky Monster Show, a kid-friendly mix of the Addams Family, Young Frankenstein and The Phantom of the Opera with famous 60s and 70s rock songs thrown in. Telephone (09) 267 0180 or email rachel.wynn@aucklandcouncil.govt.nz for more.
She's the baddest witch in all the world and she's flying into Auckland for the July school holidays! Auckland Theatre Company promises songs, spells, wonders and magic for people of all ages when it stages Badjelly the Witch - with Lisa Chappell in the title role - at the Bruce Mason Centre from Friday, July 12 to Tuesday, July 16.
See atc.co.nz or bmcentre.co.nz for more.
Capital E National Theatre for Children and the New Zealand Symphony Orchestra transform myth into breathtaking performance with Sky Dancer, a one-off performance at the Auckland Town Hall on Friday, November 8 at 1pm.
Inspired by Witi Ihimaera's novel Sky Dancer, it features a soaring orchestral score, puppets, projects and live performance and is ideal for kids 5 years and up. See the-edge.co.nz for more.