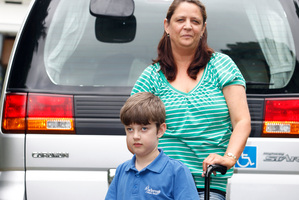 Producers of the hit Mary Poppins stage show have apologised to two women who were told they would have to buy more expensive tickets for their wheelchair-bound children.
Natalie Pearson and Kerry Kidd called The Edge ticketing office weeks apart to book tickets for the Disney production at The Civic. They were told only premium seats were available for people in wheelchairs.
Pearson booked the $55 tickets for herself, her son Nathan - who has cerebral palsy - and her daughter, and then told staff her son was in a wheelchair.
"They said, 'oh, well, that changes the price' and told me I would have to pay $115," Pearson said. "At first I just accepted it because I was preparing for my daughter to have an operation but then I thought, 'No, that is discrimination.'
"If an able-bodied person can buy a $55 ticket then my son should have that opportunity as well."
Kidd had an identical experience when she bought a ticket for her son, Kieran Eldin, who has a rare muscle and joint disorder and uses a wheelchair fulltime.
"I rang last week and they were adamant I would have to pay the regular stalls price," Kidd said.
She complained and was eventually given the tickets at the lower price and told there had been a system error.
Both women want more clarity and consistency at the box office so people with disabilities don't have to complain before they can pay the same price as other theatre-goers.
Mary Poppins publicist Sandra Roberts said there had been a glitch in the weekend bookings and Disney would never knowingly discriminate against disabled people.
"We are aware of both cases and apologise for making buying a ticket difficult," Roberts said. "We want this to be an enjoyable occasion for everyone."
Melanie Smith, deputy director at venue operator The Edge, said staff were committed to accessibility for wheelchair users.