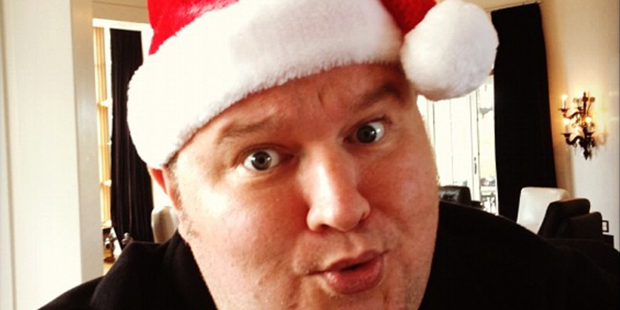 Kim Dotcom has been signed up as Santa's replacement for a Christmas pantomime dubbed "MegaChristmas".
It will see the internet tycoon sharing the stage with the glitterati of Auckland arts and culture in a seasonal show during which he declares: "I'm Santa Dotcom."
Dotcom this morning tweeted the news he is taking the role of St Nick in the play at at The Basement theatre from December 12.
"I'm Santa in the #MegaChristmas play at The Basement. The funniest Xmas play ever. Get ur ticket now. Not for kids," he wrote.
The name of the show is a tribute to Dotcom's filesharing business, Megaupload, shut down in an FBI global raid.
The adult-themed pantomime stars Oliver Driver, Dave Fane, Mia Blake, Jennifer Ward Lealand and Kimberley Crossman, among a host of other well-known names. While Dotcom will be filming a segment to be shown during the performance, an actor has been cast to play the tycoon.
Basement Theatre general manager Charlie McDermott said it was hoped Dotcom could be convinced to appear live on the opening night of the annual Christmas fundraising show. "He has become a bit of a pop culture icon."
Mr McDermott, who is on the Actors Equity board, said the charges against Dotcom were a clear divide between the "new world and old world".
The current system didn't return great rewards to performers, he said.
"The people who make money off that are only a few. We have to find ways to use that technology to our advantage while keeping our intellectual property.
The pantomime adventure starts with Rudolph the red nose reindeer waking up "savagely hung-over" and discovering Santa is missing. He steals the magic sleigh and embarks on a severely time-restricted mission to save Christmas.
The show ends by revealing Dotcom as New Zealand's replacement for Santa.
In the script, the character describes himself as a "simple man" who enjoys "life's simple pleasures" which include "watching John Key put his foot further and further into his own mouth".
References to Dotcom since his arrest in January have cropped up in comedy shows and on radio. Last Saturday he switched on the Christmas lights at Auckland's showcase seasonal street, Franklin Road, where the MegaChristmas writers convinced him to lend his support to the show.
The letter sent to Dotcom said: "You are like a modern day Santa. You also look like what Santa would look like if he owned a private jet and a pimping house."
The extradition trial is expected to be in July. If successful, Dotcom will be sent to the United States to stand trial for criminal copyright, limiting his turn as Santa to just one season.
What: MegaChristmas
Where: The Basement theatre
When: December 12-22
Tickets: On sale from iTicket
- additional reporting Herald Online