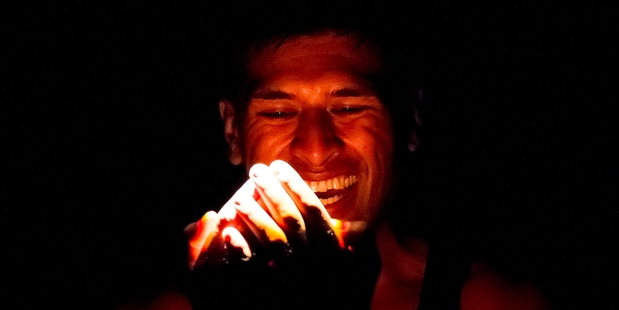 If you are going to write a play inspired by the theatre of war, you need to know what you are talking about, says playwright John Broughton.
Broughton admits he is irked by plays with military themes where it's plain the writer doesn't know his combat history or have any insight into what being in the armed forces involves. War leaves profound and lasting legacies, so he says it's imperative to serve the stories of those involved dutifully and authentically.
But look at his own biography and you may be left wondering why Broughton, a professor at the University of Otago with the Dunedin School of Medicine and the Faculty of Dentistry, felt able to write a work like Michael James Manaia.
First performed 21 years ago and revived by Taki Rua for this year's International Festival of the Arts in Wellington, the one-man show looks at the far-reaching impacts of war through the eyes of a New Zealand man who returns from the Vietnam War and finds himself alienated from his culture, country and history.
As he tells his story, it becomes clear his experiences have been shaped by another war: World War II and his father's enduring memories of it. Both Michael James - Mick - and his father have returned home with no visible wounds, but the damage runs deep. One critic described it as "high-octane, ferociously complex and ultimately devastating".
Read Broughton's CV further and it becomes obvious he is well qualified to write the story after spending 17 years in the New Zealand Territorial Army, eventually ending up as a commissioned officer. He recently received the NZ Defence Services Medal and has many friends and colleagues who have seen active duty. A number of his plays have military themes and he says that in Michael James Manaia, every line was told to him at some point by people he knew.
Like many playwrights, he's wary of finding "deep and meaningful" subtext in the play, saying it is simply one man's story and doesn't aim to promote a specific viewpoint or agenda. Broughton acknowledges, however, it's a timeless piece and with New Zealand troops in Afghanistan, and the recent casualties there, it has renewed relevancy.
"The theatre of war is quite different but the same principles are there."
Jim Moriarty took the lead when Michael James Manaia premiered at Downstage Theatre in 1991. Now, Te Kohe Tuhaka, fresh from the Auckland Theatre Company production of Awatea, takes on the job and Broughton says the young actor has done his homework.
Tuhaka says his ideas about the Vietnam War came from American movies, so he talked - as much as they would - to those who had served there; watched local documentaries and interviews and did a bit of reading about the conflict.
"It was a huge challenge for me to step up my storytelling abilities because it's me and only me up on the stage. This is a story an actor has to be totally engaged with otherwise it becomes stunted."
He first read the play as a student at Toi Whakaari: NZ Drama School and decided there was no way he was ready to portray such a complex character or perform in a play as physically and emotionally demanding as this.
"I went, 'man, it would take someone very brave and fit to take this on' so to be asked to audition years later, and feel as if I could attempt it, was amazing."
After an initial two-week workshop, and before rehearsals proper began, Tuhaka put himself through an intensive gym and acrobatic programme. Working with director Nathaniel Lees, he also devised ways to switch off from the character. He performs a karakia (prayer), with the audience, before each performance and cleanses himself on stage after the dramatic conclusion.