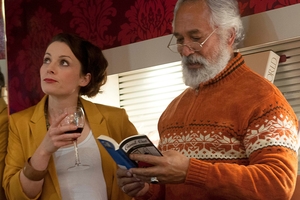 Newmarket is better known for fashion than theatre, but the local business association is turning its attention to developing the area's cultural attractions and backing a new theatre company.
The Newmarket Stage Company launches this month with its first production, Willy Russell's Educating Rita, and has attracted high-profile talent for the play's two roles.
George Henare, who stars in Auckland Theatre Company's Awatea, plays university lecturer Dr Frank Bryant, while rising star Jodie Hillock, who put in a scene-stealing performance as a young deaf woman in Silo's production of Tribes, is Rita.
Newmarket Stage Company artistic director Adey Ramsel has long imagined staging the play with Henare as the middle-aged, alcoholic career-academic who discovers the energetic Rita, one of the pupils in his English literature tutorials.
"George has such warmth coupled with the ability to portray every emotion and face every theatrical challenge from A-Z," says Ramsel.
"Frank Bryant needs to be a man who, despite some drunken and angry outbursts, the audience still likes, and George can play that.
"Frank and Rita are relatable human beings and you don't have to have a degree to get the jokes. I think the thing about Willy Russell is that he was one of the first modern playwrights to put working class people - in pinnies and hair-rollers - on stage and people love him for it. Just look at the success of his musical Blood Brothers as well as Educating Rita."
Originally a stage play, Educating Rita became most famous thanks to the 1983 film, which starred Julie Walters and Michael Caine. It later won Bafta Awards for Best Picture, Best Actor, Best Actress and Best Adapted Screenplay.
Ramsel, who arrived in New Zealand from Britain 16 years ago and has a background in comedy writing - he wrote for the television series Only Fools and Horses - and directing, says Educating Rita is the perfect play to launch a new theatre organisation.
He describes it as character-driven and clever, with enduring appeal because of the deft way Russell uses drama and comedy to examine what happens when we decide to change our lives. And it has recently enjoyed a West End revival.
Borrowing from George Bernard Shaw's Pygmalion, as the working-class Rita begins to learn about life from Dr Bryant, he also has his eyes opened to new opportunities.
The story is one Ramsel himself can relate to. He was headed for law school but, in his final year of high school a teacher persuaded him to star in an end-of-year production. After making his acting debut, Ramsel went home, tore up his application for law school and applied instead to drama schools.
"The teacher, Mr Bishop, contacted me on Facebook recently and asked if I remembered him. I was, like, 'remember you - how could I forget when you changed my entire life?"'
Ramsel says Newmarket is ready for a theatre company that he hopes can, at this stage, put on up to three productions a year but may one day have its own venue with capacity for more. "The infrastructure is already here - plenty of great cafes and bars, a train station, bus routes, two cinema complexes as well as the Opera Factory, which has been based in Newmarket for the past 15 years. Having a professional theatre company can only add to the lively district. I can see people going to the play, then spilling out for a drink or a meal."
Ramsel is concentrating on gathering the hundreds of books he needs to recreate the office of an academic who never clears out his bookshelves. He estimates at least 600 are needed and says any second-hand encyclopaedias, text books and novels will do. They will be donated to charity when the season ends.
What: Educating Rita
Where & when: Opera Factory, Eden St, Newmarket; August 23-September 8 Jodie Hillock and George Henare in Educating Rita.