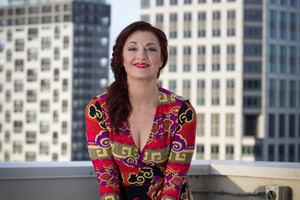 The poignant role of the Bird Woman in Mary Poppins is played by New Zealand actress Delia Hannah.
Hardly recognisable under grey hair and wrinkled skin, the usually glamorous actress has one of the most celebrated roles in the colourful stage show.
Playing the role of the old woman, who sells seeds in the Feed the Birds scene, was tough for Hannah.
"It is hard to make myself look really old every night and go on stage with stained teeth and creases down my cheek while everyone else is glamorous," said Delia.
"It is difficult but it is worth it when you see the response the scene gets."
After touring the world with shows such as Cats and Les Miserables, the award-winning actress was looking forward to performing to a home crowd - and spending time with her 9-year-old daughter Grace and actor hubby Ross Girven.
"I am sometimes away from my family for three months so it is a real treat to be home for so long."