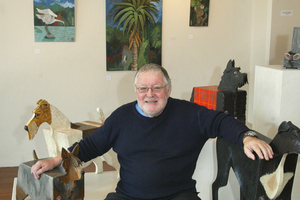 Grant Tilly's life was for the arts and the stage, and so too was his funeral.
As the big red stage curtain raised to a round of applause at Wellington's St James Theatre today, there sitting centre stage was Tilly's painted coffin.
And there, surrounded by native ferns and grasses, his family remembered, often with laughter, the artist and actor Tilly was.
The 75-year-old died last Tuesday after a battle with prostate and kidney cancer, leaving behind three sons from his first marriage, and a daughter to his second partner Ruth Jeffery.
The Wellington man appeared in many stage and television productions throughout his career, including The Daylight Atheist, Foreskin's Lament and Middle Age Spread.
He also founded and designed Circa theatre - both the original in the old Ilot building and the present theatre on the waterfront near Te Papa.
As well as an extensive acting career, Tilly made a name for himself as an artist, as both a sculpture and painter.
But it was his more private life which was remembered today at his funeral - which was planned by Tilly himself.
Tilly's younger brother, Warren, spoke at length of their childhood, moving from Wellington to Auckland and back again to Wellington.
It was when the two brothers were listening to plays and comedies on the radio as boys, that Tilly's love for the theatre grew, Mr Tilly said.
"Grant was born to be in the theatre and born to be an artist, and born to be a pain in the butt," he joked.
Tilly's three sons, Miles, Torben and Bryn, all spoke of their love and admiration for their "papa" with his creative flair.
"What a truly lovely man," Miles said, after reminiscing how Tilly once intentionally dropped 50 cent coins on the floor for Miles to find as he cleared chairs from a production.
Torben remembered a man "that never ceases to amaze me, his talent, his creative energy and his wild will".
Tilly's partner, Ruth Jeffery, also spoke of Tilly's creativity, remembering how he made their dining table out of floor boards from Ms Jeffery's old school.
Tilly was a hoarder, and particularly liked collecting model cars and pop-up books.
He also collected braces, and all the male family members at the funeral were wearing a pair of his.
Tilly will be cremated a private ceremony tomorrow, taken away dressed in his only formal black suit and bow tie, while wearing rainbow coloured shoes.
- APNZ