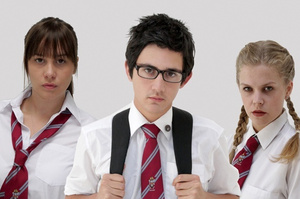 Outfit Theatre's latest production drops us into the pressure-cooker environment of a posh English secondary school where a group of articulate high-achieving teenagers are preparing for their final A-Level exams.
The set-up is remarkably similar to Alan Bennett's The History Boys but the drama rapidly veers off into much darker territory as it explores a seething self-contained world filled with adolescent angst.
British playwright Simon Stephens has a sharp ear for the twitchy mood swings of teenage conversation that can flit from crude sexual insults to obtuse reflections on quantum physics.
The drama lays bare the appalling brutality of schoolyard bullying which is revealing shown from the point of view of the bully, the victim and the onlookers who fail to prevent the cruelty.
The shock tactics leave little room for analysis but the play presents a variety of complex teenage characters that are convincingly brought to life by the talented young cast.
Jordan Mooney's portrayal of a hyper-active bully captures the casual nastiness that lies beneath teenage honesty while the nerdy victim played by Ryan Dulieu finds some solace in an apocalyptic vision of ecological catastrophe.
The female characters offer a more optimistic though equally self-absorbed world view with Morgan Albrecht establishing a striking presence as a smugly self-assured princess while Sarah Graham brings an easy going charm to role of a new girl who is oblivious to the devastation wrought by her friendly rejection of a request for a date.
The central character presents a disturbing study of a narcissistic personality whose awkward exterior masks an unhealthy delight in his own cleverness and a chilling contempt for ordinary people. It is a challenging role that is well handled by Nathan Mudge as he shows how seemingly harmless fantasies can slip into deeply psychotic delusions.
Benjamin Henson's assured direction makes effective use of John Parker's stylishly minimal set design and though the production has nothing to say about the late seventies musical revolution the frenetic sounds of various punk anthems are used to the kick the action along between scenes.
What: Punk Rock
Where: Basement Theatre to April 7