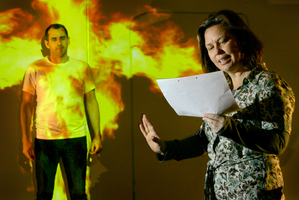 Chameleon storyteller Ian Hughes and composer-performer Don McGlashan are likeable, well-known talents offering an entertaining, layered evening, with the assistance of superb musicians Chris O'Connor and Dave Khan. The decision to revive this well-anchored 2008 show can't have been hard - it has wide appeal for good reason.
Hughes brings to life three sailor adventures deemed too little or too radical for the official history books. It's as much about mortality, and wanting to live forever through fame, as it is about the sea.
Interestingly, Hughes narrates the true tale of how his own mother crossed the Atlantic in 1962 not as himself, but as an 18th century Irish convict on a South Seas prison boat. The incredible tale of 15th Century Chinese admiral Zheng He - a well-chosen subject - acts as counter-weight.
The stories are poignant, rollicking, tragic, lyrical, cheering and stirring in turn, with two or three very comic vignettes thrown in, thanks to the band acting as a chorus of tie-straightening suitors and then Canadian lady typists.
There's room to spin a sailor's philosophy in salty seadog language: God is left on shore, and the Captain becomes all-powerful in his own "wild kingdom" at sea.
The wraparound music includes both sea ballads and incidental pieces evoking wharf and beach scenes through rattling chains, pipe-blowing, and great use of percussion and mandolin.
John Verryt's simple zippy set and the projected backdrops (occasionally music-video gimmicky but effective nonetheless) are clearly designed for ease of touring, and Hughes seems to keep something of himself in reserve for the first 20 minutes or so. But once he gets going, the piece is engrossing. It's masterfully structured, with Hughes leaping in and out of stories and epochs as easily as he leaps from one character and accent to the next in mid-blink.
Even within each story, he is likely to tell the end before the middle, yet this merry hornpipe through episodes is easy to follow, possibly because the cliffhangers are so memorable. Enjoyable.
What: Ship Songs
Where: Rangatira, Q Theatre, to April 7