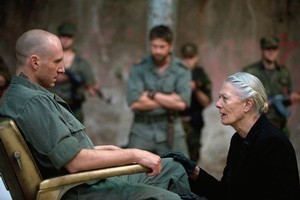 Under a dusting of snow and a heavy load of festive lights, the town of Stratford-upon-Avon is preparing for Christmas and for the dawn of the second most significant year in its history.
The most significant came more than four centuries ago when, in April 1564, Mary Arden gave birth to her third child in a half-timbered home that doubled as a glove workshop. That child went on to influence the world in ways that become more surprising as the decades roll by, securing lasting international fame for his home town in Warwickshire.
In 2012, 448 years after his birth, William Shakespeare is expected to draw a record one million visitors to Stratford.
The writer and his works are at the heart of Britain's Cultural Olympiad, the arts festival designed to augment the London Olympics. The World Shakespeare Festival will be produced by the Royal Shakespeare Company from its Stratford base and will run from April 23 to September 9, with collaborative shows from 50 other professional arts organisations across the country and abroad, and many British amateur groups too.
Among the RSC's own contributions will be a celebration of the plays in which the writer maroons his characters on mysterious islands, entitled What Country, Friends, Is This? from Viola's first speech in Twelfth Night.
There will also be productions of Julius Caesar, starring Ray Fearon and Adjoa Andoh, and Much Ado About Nothing, starring Meera Syal. What is more, 2012 is the year the freshly rebuilt Shakespeare Memorial Theatre will play host to West End bad boy Mark Ravenhill, author of Shopping and F***ing, as writer in residence, as well as being the last year in the long reign of the leading duo at the venue, the artistic director, Michael Boyd, and the executive director, Vikki Heywood.
Shakespeare will also feature in cinemas with the Ralph Fiennes-directed production of Coriolanus.
"Shakespeare is probably the best known person in the world. His work is uniquely robust. It provides such an extraordinary palette from which to tell universal stories," said Heywood. While it is hard to come up with proof of Shakespeare's interest in competitive sport (wrestling in As You Like It perhaps, fencing and archery, yes, and maybe the gift of tennis balls in Henry V), for Heywood a Cultural Olympiad without the Bard was always unthinkable.
The die was cast for Stratford when Boyd met Jude Kelly, the creator of London's cultural bid for the Games and she asked him to consider producing a Shakespeare festival.
"I thought London would never get the Olympics," recalled Boyd. "Then in July 2005 I heard the Red Arrows flying overhead and I thought, 'Oh my God, we have!"'
In 2006 Boyd shepherded the company's year-long Complete Works festival, but he remains in awe of 2012.
"It is in danger of being the largest performance arts festival that has ever happened anywhere," he said. He and his team have commissioned thousands of performers, with a vast geographical reach.
The festival already embraces events in London, Birmingham, Newcastle/Gateshead and Edinburgh, but it will also work with companies visiting from all over the globe.
Applications for Boyd's job close early next month but he is not sure the festival should be seen as his Shakespearean swansong.
"No, it's a flight of swans going down the river. And a stimulus for the next generation, I hope."
The celebration will pivot on Shakespeare's birthday - which also happens to be St George's Day - when, as Geraldine Collinge, the director of events and exhibitions at the RSC, explained, a version of Womad, the international music festival, will arrive on the banks of the Avon:
"It is going to be challenging, as the festival will run for such a sustained period, but we are getting there."
Boyd is to work most directly on a production of Pericles - a difficult play, but one of the director's favourites. He is passionate about the company's responsibility to schoolchildren.
"Shakespeare is not just for private schools. There is no getting around the fact it is difficult, but when children perform it, they conquer it and that means they own a bit of high-status culture. There is a confidence then, and a pride that leaks even into their maths," he said.
Once the snow melts and spring arrives in Stratford, then, complete with festival tea towels, but mostly with Shakespeare's potent ideas, the festival looks likely to match the promise of sonnet 98:
"When proud-pied April, dressed in all his trim / Hath put a spirit of youth in every thing."
- Observer