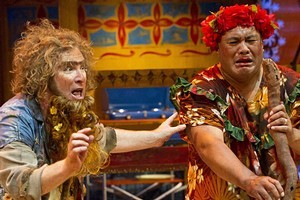 Opening with a breathless invitation to enter a world of pure imagination ATC's Christmas show captures the magic of an old fashioned music hall pantomime and presents a wonderful opportunity to introduce children to the enchantments of live theatre.
Although the production is perfectly pitched for the primary school age group there is plenty to engage adult audiences. Like all great fables the story contains penetrating psychological insights and a timeless commentary on the frailties of human nature.
Roald Dahl's imaginative world acts like a grotesque distorting mirror throwing up a strangely revealing reflection of the real world.
His villains are so compelling because they are so recognisably human. There is no need for supernatural powers or evil malevolence when Dahl is able to whip up intense fear and loathing simply by exaggerating the nastiness of a couple of miserable twits.
The odd-couple pairing of Te Radar and David Fane as Mr and Mrs Twit is an inspired piece of casting. They bring a down-to-earth Kiwi flavour to Dahl's definitive portrait of malicious spitefulness and their dogged insistence on tormenting each other with fiendishly inventive mind games provides a valuable lesson on how unhappiness is often self-created.
Fane serves up a reprise on the hard-case Samoan matriarch from Bro Town while Te Radar gives a nuanced portrayal of a petty tyrant and delivers a comic highlight with a cataclysmic tantrum when he is deprived of his favourite bird pie.
By contrast the Mugglewumps and their collaborator the Roly-Poly Bird present an inspirational study on how oppression can be overthrown by group solidarity and creative thinking.
The Mugglewumps' heartfelt protest against the unfairness of their situation could almost provide a manifesto for the Occupy movement and it seems perfectly fitting that the mischievous monkeys launch their revolution with a stirring rendition of Do You Hear the People Sing from Les Miserables, cleverly adapted to Simian liberation.
The Twits provides an excellent outing with wildly energetic performances from a fine cast and suitably inventive staging.
What: The Twits
Where: Q Theatre
When: Until December 18