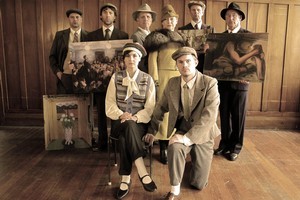 Playwright Lee Hall (Billy Elliot) is in his arts vs mining element with this traditional fourth-wall play, inspired by the two dozen working class artists of the celebrated Ashington Group.
Well-executed by Potent Pause Productions and directed by Paul Gittins, this chatty, accessible piece is How To Look at a Painting as presented by 1930s Northern English miners. It's more earnest and less smarmy than Yasmina Reza's Art, which does a similar thing in a very different setting.
The artists (numbering only five in the play) and their more stately teacher (Edward Newborn) show how to have robust debates and accept criticism, without anybody getting too offended. "Of course we're going to be judgmental, it's an art appreciation class," admonishes dentist Harry (Stephen Papps), aptly as well as humorously, in between quoting paragraphs of Marx.
The pace is good over nearly three hours, keeping interest up even when the men waffle realistically when thinking out loud. The thoughts about art range from platitudes about having an "artist's soul" to sharper ideas like "art has to say something otherwise it's just decoration".
Choosing between traditional community and modern individuality is nicely presented as a genuine dilemma when flamboyantly dressed collector Mrs Sutherland (Elizabeth Hawthorne) offers Oliver (John Glass) the opportunity to leave the mines. The tension between class mindsets is skilfully portrayed.
The cast of eight, using suggestive rather than full-blown Geordie accents, are all excellent, although there's no sign of anyone ageing over the play's 13 years.
Highlights include real Ashington artworks projected on to the three screens, in a compelling touch of authenticity (although later pieces are presented as the first week's efforts, giving the impression the men needed little practice).
The play tends to smooth over crises, but as one character points out, the paintings do too. These men are stoic. Don't expect an angry or passionate climax; instead, the ending is made poignant and political through dramatic irony. At $45, thoughtful and entertaining.
Theatre
What: The Pitmen Painters
Where: Q Theatre, to December 10