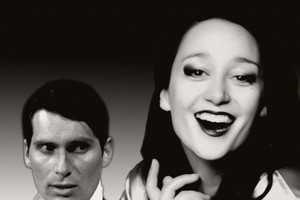 Early on in this contemporary celebration of 1940s American screwball comedies, the waiter/writer tells the high-society gal: "you have a nice way with words". Quick as a flash, she comes back with "wrap your tongue around them and they're yours for life." Whoa!
The dialogue is smart, sassy and full of slick wit; it doesn't take long for the flirtation to turn to insults. She tells him she's going to marry him, and he tells her she's not. She: "Everybody has doubts." He: "I'm pretty certain about mine."
This is the two-hander that Silo Theatre had to cancel due to funding issues last year; it's pleasing that we haven't missed out on New Zealand playwright Richard Huber's romantic repartee, thanks to this remounted Dunedin production.
The plot and backstories are more than a little silly, but the lovingly-recreated stock characters add fuel to the banter fire. The script evokes everything from Cabaret to George Orwell.
"She" is Anya Tate-Manning as Gloria Lord - named for Tracy Lord in The Philidelphia Story. She's spoilt, selfish and thinks the poor are lazy. Tate-Manning has Katherine Hepburn's accent, tone and imperious charisma nailed; she's a self-assured pleasure to watch.
"He" is Sam Bunkall as angsty Jimmy, whose overbearing writing about "real life" is laden with self-indulgent similes; Gloria accuses him, with some justification, of "bitching about the human condition like a bored Russian housewife."
Bunkall masks Jimmy's attraction to Gloria behind irritated distance only too well; it's hard to see why he doesn't kick her out already. (Be assured: he has his reasons.)
The impressive sparkling conversation tempo isn't supported by the sluggish scene changes and gloomy lighting, but the period costumes are attractive, and the exit stairs nicely communicate Jimmy's Basement space.
The last word goes to Gloria, who carelessly turns Camus into a throwaway bon mot without seeming to notice: "Everything is meaningless; it doesn't mean we shouldn't do it."
Fun, for a ridiculously low $18.
Theatre
What: Glorious
Where: Basement Theatre, to November 12