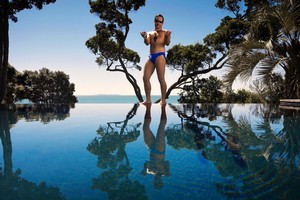 Director Shane Bosher definitely makes some waves as he plunges into the pristine space of Q Theatre with a raunchy adaptation of Moliere's 17th century satire against religious hypocrisy.
The extravagant production has exquisitely costumed actors tumbling in and out of a real swimming pool, the centrepiece of designer John Verryt's brilliantly conceived riff on the garish excesses of Auckland's nouveau riche.
The original play was considered so dangerous that it was banned by ecclesiastical authorities.
These days, attacks on organised religion are likely to be rewarded with an arts council grant rather than being threatened with ex-communication and to keep the drama relevant Australian playwright Louise Fox has cleverly re-directed the satire on to the gullible victims of spiritual chicanery.
The adaptation respects the mannered form of Moliere's comedy with its strange combination of intricate wordplay, slapstick buffoonery and outrageously over-the-top characterisations.
It's a style that requires finely balanced performances and several members of the cast rise to the challenge.
Cameron Rhodes delivers a superb performance that somehow manages to elicit sympathy even as he captures the boorish pomposity of a tycoon so profoundly detached from reality that he is ready to surrender control of his life to an obvious charlatan.
Paolo Rotondo oozes an oleaginous charm as the villainous conman Tartuffe and Mia Blake is particularly engaging with her portrayal of a hard-case Samoan maid who manipulates her employers with an endearing blend of aggressive bullying and ironic sycophancy.
Sophie Henderson convincingly throws herself into the histrionic tantrums of a spoilt heiress, and Theresa Healey brings a cool insouciance to her portrayal of the materialistic wife who is the only character with the presence of mind to match the imposter Tartuffe.
Bosher's direction pulls out all the stops with spectacularly staged entrances, highly polished set pieces and some riotously risque shenanigans in the swimming pool.
On occasions the pace drags as the cast struggles with the profuse wordiness of the script and the biggest laughs come from the skilful use of physical theatre devices or the hilarious karaoke style renditions of popular songs which range from the brazen crudity of hard core rap through to the lush romanticism of Up Where We Belong.
Theatre
What: Tartuffe.
Where: Q Theatre, to November 26.