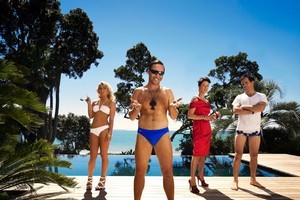 Talk about making a splash. For its first performance at Q, Silo Theatre artistic director Shane Bosher decided the company needed to stage a big, brazen show packed with sex, satire and swimwear.
So Bosher got the rights to a modern antipodean adaptation of French playwright Moliere's 347-year-old play Tartuffe where the comedy has been transported from the salons of Enlightenment Paris to the poolside of your average ostentatious Auckland mansion.
To be true to the new setting, he figured it would require a real swimming pool. This means the stage space will consist of the pool, a cabana, banana loungers, spa, barbecue and outdoor furniture, fairy lights and a rowing machine.
Designer John Verryt has spent a year working with the Q team and a spatial engineer to ensure Q's second-floor Rangatira theatre can support the weight of the water. Because much has been made of Rangatira's flexible space, Bosher thought why not make optimum use of it?
"It's our first gig at Q so why not test the limits of the space to really show it off but also to do something we haven't done in a long time and that's to present a wonderful, celebratory and fun show with a large-scale cast.
"It's theatre with a capital 'T' where life as we know it has the volume turned right up. This version of Tartuffe is a cross between Absolutely Fabulous and a Steve Carell film full of irreverent humour and actors behaving badly.
"There's been too much standing around speechifying lately - and this is certainly not that."
Set in the here and now, a nouveau riche family is about to be seduced by an obsequious conman - Tartuffe (the hypocrite) - who presents himself as a holier-than-thou life coach with the answers to the family's varied issues.
With a cast of 12, including Cameron Rhodes, Theresa Healey, Paolo Rotondo, Sophie Henderson and Mia Blake, Tartuffe mocks the cult of personality, materialism and consumerism as well as a raft of other contemporary "isms".
Such a modern makeover means it's a world away from the community hall in Hamilton where, some 20 years ago, Bosher first saw an amateur dramatics group perform Moliere's most famous play.
"It was real museum theatre," he says, "but it was still wickedly funny and surprisingly relevant."
Bosher says throughout his drama school years, he regularly watched a Royal Shakespeare Company version produced for television and wondered at how something originally aimed at the Catholic Church could continue to be funny in an increasingly secular society.
Indeed, when Tartuffe debuted in 1664, Moliere, with those who went to see it, found himself threatened with excommunication by the Archbishop of Paris. Public performances were banned and it wasn't until his detractors lost their influence that the final version was permitted to be staged.
In his defence, Moliere declared if the function of comedy is to correct men's vices, he did not see why any should be exempt.
Despite the so-called "death of religion" in modern society, Bosher says there are still plenty of vices that need correcting for Moliere's work to be applied to - a fact well recognised by theatre-maker Louise Fox.
Fox, an actor and award-winning writer, was commissioned in 2008 by Melbourne's Malthouse Theatre to give the play a modern makeover. By and large critics loved it and Bosher began planning for Silo to bring it to Auckland.
He's tweaked the Australian references to make them more relevant and resisted the almost overwhelming - but potentially libellous - temptation to name too many names or make the jokes too crass.
The characters spend most of their time in swimwear lounging around the pool behaving badly. Rhodes plays family patriarch Orgon as well as Orgon's mother Madame Pernelle; Healey is his exquisitely groomed and heavily botoxed second wife Elmire and Rotondo is the charlatan Tartuffe who gets to perform highly unnatural acts in the pool.
Playing two people in quick succession demands an "extraordinary actor feat" from Rhodes, but the popular character actor says he's loving being part of Tartuffe. He likens it in style and design to Cyrano De Bergerac, a role he played in the early 90s which remains a career highlight.
"It's theatre in the round, it's very physical and theatrical and heightened. We haven't had, until now with Q's opening, a theatre like the Watershed where we can do this type of theatre in the round."
Rotondo says the key to making this Tartuffe a success is for the actors to leave their humility at the door and throw themselves into the spirit of the piece "just to have fun, really".
In 2009, Rotondo was awarded the Shakespeare Globe International Artistic Fellowship. One of 10 theatre practitioners selected from around the world, he spent a month in London at the Globe Theatre involved in intensive training which culminated in a public performance.
"They took one look at me and said, 'You're a physical theatre performer so you can do those roles' and it's paying off now."
With Rangatira designed, like the Globe, like an old-style European courtyard theatre, Rotondo says it felt familiar when the cast visited to start thinking about how the space would impact on performances.
"It's wonderful but those spaces are very big and that makes hard work. At the Globe, the audience is allowed to talk, heckle and move around so you have to grab their attention and talk and move."
Healey describes Elmire as an archetypal character - like many in the comedy - who will be instantly recognisable to the audience as the woman trapped in a loveless marriage but not willing to give up the money and security.
"She's not a bad person and she's one of the only people who can see through Tartuffe, probably because they're just a little bit alike, but she still finds him strangely attractive. This play is very much about what we see, what we do not see and what we choose to ignore for whatever reason."
Performance
What: Tartuffe.
Where & When: Q Theatre, November 4-26.