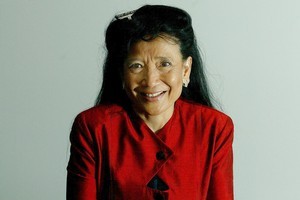 In 1978 Jung Chang left Communist China to study in Britain. Ten years later, inspired by a visit from her mother, she began writing about her life in her homeland. The resulting book, Wild Swans - still banned in mainland China - went on to smash bestseller records worldwide.
Now Chang's story is set to make history again, with an international collaboration to perform it on stage for the first time.
Co-produced by London's Young Vic, Wild Swans will appear in the British capital in April as part of World Stages London, a season of international theatrical collaborations.
Chang said she was "glad the Young Vic is going to transfer [the book] into another art form".
"I was born and raised in China under Mao when China was cut off," she said. "In 1978 I was able to become one of the first group of 14 people to come to Britain. It was like another planet. I soon made friends with people from all over the world."
Chang, 59, was born to Communist Party parents in Sichuan Province. She became a member of the Red Guard at 14 and then worked in various jobs before studying English.
She said she was prompted to write Wild Swans, which has been translated into 30 languages and sold more than 10 million copies, after her mother visited her in London in 1988. It tells the true story of three female generations of Chang's family.
"I didn't want to write anything, I didn't want to look back at the past,"said Chang.
"[But] my mother came to stay with me, she talked every day, and she left me with 60 hours of tape recordings." She later added: "This new production means a lot to me."
In 1982, Chang became the first person from the People's Republic of China to earn a PhD from a British university, in linguistics at York.
The director is Sacha Wares, who directed last year's Olivier Award-winning Sucker Punch at the Royal Court. Young playwright Alexandra Wood will adapt it for the stage and the designer is Miriam Buether.
"We have been working on this project for four years now," said Young Vic artistic director David Lan.
"It couldn't have come at a better moment. China couldn't be more in our consciousness. There are large numbers of people of Chinese extraction living in the capital. This is a way to think about people who are living around the corner."
The play will premiere in Boston in February before going to Britain.
- Independent