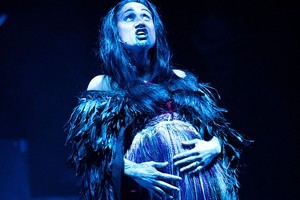 A traditional-style epic tale, this well-paced musical extravaganza is by turns cheesy, dramatic and genuinely moving.
Swathed in dry ice, coloured light and sparkly eye shadow, the Te Matatini show written by Helen Pearse-Otene has it all: twins, feuds, romance, faerie people (Patupaiarehe), magic spells and fighting.
But, unsurprisingly, the greatest strength of The Greatest Love is its raison d'etre: the kapa haka. Directed by Tapeta and Annette Wehi, the intensely energetic song-and-dance numbers are full of kaleidoscopic formations polished with effective embellishments using ankles and heads.
Few traditional musical instruments are used, but operatic voices soar in wonderful harmonies.
The moral - "we are too warlike, always picking at the scabs of revenge" - is a cue for impressive mau rakau (Maori weaponry) demonstrations and forcefully flat-footed jumps.
Gender roles are unusually fluid. Women perform with the taiaha and the patu, and nobody questions why Mira, the chief's daughter, wants to succeed her father.
Refreshingly, it is a man - Dan Vaka - who leads the tangi lament with a calm power. The men - sporting ta moko on their legs and buttocks - show way more flesh than the women.
In perhaps the best, most creative scene, fierce Mira (Te Ara Vakaafi) stumbles up a mountain to discover her fate.
She clambers from piece to piece of Apostolis Papazoglou's geometric, almost Aztec-temple set, while those pieces are swirled about the stage.
Meanwhile, in contrast to her uncertainty, her fellow wahine gracefully float long-stringed poi, perhaps symbolising the inevitability of her destiny.
The acting of all 35 performers, under Jim Moriarty's direction, is clear and enjoyable, and the children offer moments of pure delight.
Puriri Areke Te Hapua Koria as the young hero Kahu has particular stage presence, and his tussling with Kahu's twin Mira (Puriri's own real-life younger sister, Petiata) is comically realistic.
The blue body paint of the faerie people - culminating in fantastic warped icicle reptilian abs for their leader (Kereama Te Ua) - separates them clearly from the feather-cloaked human iwi.
An entertaining showcase.
What: Arohanui: The Greatest Love
Where: Dorothy Winstone Centre, Auckland Girls Grammar School, to October 21
- Herald online