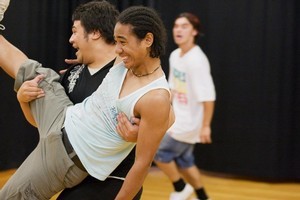 Like many aspiring writers, Maureen Fepulea'i had a drawer full of short stories, some poems and a draft script ... and so many questions about how to get them published or produced.
So Fepulea'i, a 43-year-old mother of five, googled playwriting and found just what she wanted - details about New Zealand's playwriting agency and script advisory service, Playmarket.
After speaking to Playmarket, she attended a Banana Boat Newbie Writers' workshop and, less than a year later, won the prize for Best Play by a Pasifika Playwright in the Adam NZ Play Awards.
Now Fepulea'i's debut work E Ono Tama'i Pato is touring Auckland and Wellington as part of the Playmarket Brown Ink Playreading Tour.
It's the next step for playwrights, introducing them to new audiences and showcasing emerging writers to the public.
One of E Ono Tama'i Pato's performances, at the Papakura Art Gallery on Wednesday, November 2 (7-9.30pm), is a centrepiece in the Southside Arts Festival's theatre section.
Not surprisingly, Fepulea'i is thrilled, delighted and a little overwhelmed by the success of a very personal story about a group of women and their experiences as survivors of abuse.
"It's all a bit surreal," she says. "When I was at the awards ceremony, I kept waiting for someone to tell me I was on Candid Camera.
"I wrote this play to give voice to many women who have had to survive their childhood with the abusers still free to come and go as they wished. Many do not have a voice at the time and, as adults, still suffer insilence.
"But there's a lot of humour in the play, otherwise people might go, 'that's a heavy topic - why would I want to see anything like that?"'
Directed by Margaret-Mary Hollins, the play stars Pasifika actresses Mary Pahi, Olivia Muliaumaseali'i, Stephanie Tuaevihi and Suivai Autagavaia.
Fepulea'i is especially pleased it is going to Papakura.
"It was where I first started to write and it only seems fitting to bring the reading back to South Auckland. I hope to have the play produced for South Auckland audiences. The readings are part of the development."
As well as seeing what a new playwright is up to, the Southside Arts Festival includes the latest work by Massive Theatre Company's Massive South Ensemble.
The ensemble is made up of about 14 South Aucklanders aged 16 to 20, and Thoughts Alive is a series of pieces ranging from monologues to physical theatre that highlight the skills of the group.
Massive founder Sam Scott says Thoughts Alive is a "showing" and the work featured isn't necessarily connected but draws on the performers' experiences and interests.
She says those who have had a preview have been amazed by the depth and breadth of talent.
"They've told me that's not a showing - it's a proper show."
Thoughts Alive is on at 7pm on Saturday, October 22, at the Metro Theatre in Mangere East.
As part of the Southside Arts Festival, the world's longest-running play gets a Hindi make-over via the MigHT-I Theatre Company.
Writer and director Prashant Belwalkar has taken Agatha Christie's murder mystery The Mousetrap and adapted it for an Indian audience.
Jaal (The Trap) should prove popular. Last year, MigHT-I's adaptation of Twelve Angry Men was a sell-out.
JAAL (The Trap) is on Sunday, October 30 (11am and 4.30pm), at the TelstraClear Pacific Events Centre.
What: Southside Arts Festival
Where and when: Various South Auckland venues, October 14-November 6