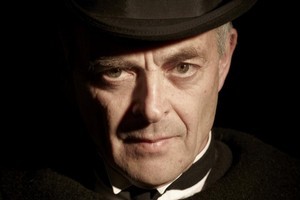 Playwright Albert Belz has earned considerable acclaim for his treatment of Maori subjects but his re-telling of the Jack the Ripper story seems to be making a statement about the perils of pigeon-holing writers according to their ethnicity.

By appropriating a quintessentially English tale Belz demonstrates the imaginative reach of writing in an age of global inter-connectedness and challenges the finger-wagging assumption that New Zealanders, and more especially Maori, ought to be giving voice to experiences of their own people.

In a similar vein the production by local company The Rebel Alliance avoids any reference to New Zealand and could easily be mistaken for the work of an international touring company.

Director Anders Falstie-Jensen successfully conjures up the ambiance of Victorian London with authentic period costumes, convincing Cockney accents and an elegantly simple set design by Jessika Verryt.

The perennially fascinating, still unsolved murders have engendered all kinds of speculation about the identity of Jack the Ripper. Belz's fictionalised account weaves an elaborate conspiracy theory in which the homicidal mayhem is directed by an unseen society with links to both the Freemasons and the Royal Family.

The writing has a freewheeling, idiosyncratic quality with dazzling descriptive passages and skilful stylistic shifts evoking the strange contradictions of the Victorian era. A series of sharply drawn images shows a world in which the emerging devotion to scientific method is enveloped by a swirling fog that contains spiritualism, Ouija boards, eccentric rituals and bizarre psychological speculations.

The strong cast all deliver finely balance performances and David Aston is particularly compelling as Jack the Ripper.
Brief explosions of rage are contained within a mask of urbane sophistication and his nuanced portrayal suggests the blood-lust is driven by a surfeit of rationalism rather than animalistic fury.

The play builds strong sympathy for the murder victims with Sophie Henderson conveying the bewilderment of an innocent shop girl entrapped by forces that she cannot comprehend while Dena Kennedy captures the feisty vitality of a Cockney prostitute with a beguiling mix of bawdiness and sentimentality.

LOWDOWN
What: Yours Truly
Where: The Basement, to October 22