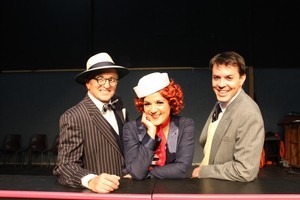 The show might be called Anything Goes, but that's not the case for those staging the Broadway musical in Auckland this month.
Local outfit Amici Productions has co-produced the likes of 42nd Street, Rent, Miss Saigon and Cats in recent years so is becoming increasingly adept at delivering blockbuster musicals.
For the nautical classic Anything Goes, Amici and Auckland Music Theatre have spent a year assembling a cast, designing and sourcing costumes from around the world and building a two-levelled set to replicate a cruise liner.
Director Grant Meese says the set is so big you probably could go to sea in it. When he's not supervising rehearsals, he's just as likely to be helping paint it.
"It's all hand on deck - so to speak."
Given there's a cast of 36 plus a 16-piece orchestra, it needs to be spacious but he says more importantly, it must reflect a decadent 1930s America where, despite the Great Depression, anything did go for those of a certain class.
It's that devil-may-care attitude which Meese says makes Anything Goes, set in the mid '30s, fun, fast-paced and feelgood; a testament to the notion that decadence can kill depression and a sentiment he feels applies equally today.
"It's the perfect musical to come along to, sit back, have a laugh and listen to some great and recognisable songs.
"I think there's a real place for that considering the financial doom and gloom around us today."
Meese says everything about the production has to invoke the more spirited side of a decade often regarded as dour.
"The 1930s are an interesting era with definite fashions - like art deco - which make a strong style statement. As soon as you start to try to introduce a more modern edge or to strip the design back, you lose something and audiences don't feel that they're truly being transported back there."
And if that means keeping some of composer and songwriter Cole Porter's naughtier lyrics, so be it.
The song I Get a Kick Out of You contains a celebrated reference to cocaine and while US censorship laws meant it was altered for the 1936 movie version, it remained in the stage shows.
"It's a Cole Porter lyric that's been around for years and it keeps true to the era. It might have been the Great Depression but some, like Porter, lived very decadent lives indeed. He probably wrote the line and didn't even think too much about it."
Amici and AMT's rigorous planning and organisation is a long way from what went on behind the scenes of the original 1934 production.
Broadway producer Vinton Freedley hit upon the idea for Anything Goes when he was fleeing creditors - his most recent show having flopped - and living on a yacht. Seeing potential for a "ship in peril" farce, he hired a writing team which included British humorist P.G. Wodehouse, and cast emerging star Ethel Merman in the lead role.
But just weeks before opening night the mid-ocean liner SS Morro Castle caught fire resulting in the deaths of 137 passengers and crew. Freedley figured proceeding with his show would be disastrous so the script was completely overhauled.
Theatre legend has it that the last-minute changes led to a desperate scramble with one of the producers declaring it didn't matter how the first act ended because at that stage 'anything goes'.
But the show was a hit, largely thanks to Porter's toe-tapping songs like I Get A Kick Out Of You, You're The Tops and It's De-Lovely.
It ran for 420 nights, quickly being picked up for a season on London's West End. Since then, Anything Goes has enjoyed Broadway and West End revivals in the 1960s, 1980s, 2000s and is currently going another round in New York before a major US tour next year. Time Magazine rates it as one of the most frequently produced musicals in US high schools.
The revised version - and the one most are familiar with - features a love-struck Billy Crocker who falls for wealthy heiress Hope Harcourt. Learning that Hope is setting sail for London, Billy decides to shadow his boss, the permanently inebriated Wall Street banker Elisha J. Whitney, and stow away on the luxury liner the SS American.
Billy has a friend in sassy ship singer Reno Sweeney, plus a couple of gangsters, who are determined to help him win Hope's heart and hand. In the best of musical traditions, it leads to much mayhem and music with the passengers and crew bursting into Porter classics and polished dance numbers.
Jackie Clarke, who plays Reno Sweeney, says she believes its success can also be partly attributed to the fact it provided a vehicle for wildly popular female performers, like Ethel Merman, who needed strong roles to showcase their talents.
"It's been a role I've always been aware of and I've always thought, 'I'd love to have a go at that'. Reno is a gutsy lady, a firebrand singer who's full of chutzpah and larger than life energy."
Alongside Clarke, the Auckland cast includes veteran entertainer Ray Woolf, Australian performer Tyran Parke and local musical theatre favourite Delwynne Winter.
Woolf plays Elisha J. Whitney and says after 50 years in the business, it's fantastic to find a role he can throw himself into. He recently appeared as a flirtatious grandfather on TV One's Nothing Trivial.
"I can't believe how many people watch the show and came up to me to tell me they'd seen me on TV.
"Then to get Anything Goes, well at my age [Woolf is 67] to be offered a part in such a great musical is pretty cool.
"Parts for guys my age tend to be fairly rare so it's a nice opportunity to get back on the Auckland stage."
Woolf jokes that given his character spends most of his time pickled - and at one stage stumbling round looking for his glasses - in the unlikely event of a "senior moment" he should be able to cover it seamlessly.
Parke, who is playing leading man Billy Crocker, is becoming a regular on the Auckland stage. In the past 18 months, he's appeared in local productions Sweeney Todd and Cabaret followed by stints at home in the rock opera Tick Tick Boom! and with the Bell Shakespeare Company's Much Ado About Nothing.
He's clearly someone who likes to be busy. Returning to New Zealand, Parke went from the airport straight to Anything Goes rehearsals.
Brief introductions to the cast completed, he was belting out a duet with Clarke and practising his dance moves before you could say "de-lovely".
"Anything Goes is just great fun - pure and simple. When Billy sneaks on board, it sets the scene for great comic farce which becomes an excuse for some fabulous one-liners and awesome songs. It's fantastic to be singing some beautiful music."
LOWDOWN
What: Anything Goes, the Cole Porter shipboard Broadway musical
When and where: At the Civic from Thursday September 29 until Tuesday October 11
- TimeOut