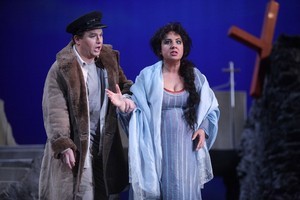 Pietro Mascagni's Cavalleria Rusticana (1890) and Ruggero Leoncavallo's Pagliacci (1892), affectionately known as "Cav & Pag", were fated to share an evening in the opera house.
At 26, Mascagni had set off a startling new movement known as verismo, derived from the Italian word "vero" (true). There were none of Verdi's dukes, counts or courtesans in the Sicilian village of the one-act Cavalleria Rusticana; Mascagni gives us people of the soil, with full-blooded and often raw emotions.
The inspiration had come from writers like Giovanni Verga, whose play is the basis for Mascagni's opera, but Bizet's Carmen was also a palpable influence. And, without the example of verismo, Puccini may have not settled upon Floria Tosca and Cio-Cio San as heroines .
Pagliacci is a more sophisticated work, exploring the insidious effects of jealousy among a troupe of strolling players passing through a village. There is almost an element of cabaret at the beginning and the play-within-a-play format is a theatrical coup.
Canio's famous aria Vesti la Giubba, with its "laugh, clown, laugh" sentiments, is not so far from Smokey Robinson's Tamla Motown lament of the 1960s, The Tears of a Clown.