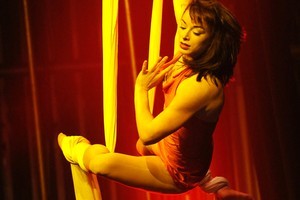 A blonde with a cheeky smile pops her head around the dressing room door, lifts an unopened bottle of Martinborough pinot noir to her lips and pretends to guzzle.
As Herald on Sunday photographer Rob Tucker spins around, Marie-Andree Lemaire dives out of sight, laughing when she realises she wasn't quick enough to escape his lens.
It's less than an hour before the curtain rises on Soap - The Show and teasing the photographer is all part of the warm-up for this 28-year-old clown from Montreal, who trained at the city's renowned National Circus School.
Her fellow performers are scattered around the green room, twisted into back bends or head stands as they limber up for the two-hour, bathtub-themed circus/cabaret performance.
Straps artist Michael Lanphear, from Boston, is stretched into the splits on a blue yoga mat, leaning on his elbows as he casually flicks through a women's magazine.
An occasional thud drifts down from the dressing room, where Ethiopian Adem Endris practises his eight-ball juggling strip routine for a full 90 minutes.
Out on the stage, American opera singer Patricia Holtzmann runs through her vocal exercises. She stands amid the six baths which provide the basis for the show's mix of gymnastics, contortion, hand-balancing, silk straps, ropes, Chinese pole, opera, burlesque and comedy.
When the curtain opens, Marie-Andree's character will lace the show together, weaving her comedic antics in and out of the sometimes disparate acts. She has been performing the role since 2009, after developing the character with directors Markus Pabst and Maximilian Rambaek, who created the show in collaboration with Berlin's Circle of Eleven company.
She will stomp the stage in a multicoloured gingham dress and red gumboots, a regular person marvelling at the artists' fine physiques and, she says, "looking for love and friendship". One moment she will fish up a dancing hand, the next she will be down in the stalls improvising with an unsuspecting punter, or lying belly-down in the tub with two feet folded over her shoulders.
Today, Marie-Andree arrived at the theatre at noon, two hours ahead of the matinee performance. Her first task is to prepare her props, running her mind through each scene as she stashes a rubber duck and a fishing rod in secret spots around the set.
She will be on stage for almost the entire performance, so it is vital to ensure everything is in its place before the show begins.
Moving on to the dressing room, Marie-Andree escapes into a mental bubble to prepare herself for the show to come. She concentrates hard as she expertly applies her make-up and slips into her costume, mentally and physically adopting her on-stage persona.
Joining her colleagues in the green room, Marie-Andree does a few cursory stretches, but she says her real task is to "annoy everybody. I need to get into a funny mood, to get my energy up'.
She cranks up Ella Fitzgerald on the stereo, even though she knows Michael and trapeze artist Francois Gravel prefer pop, and runs around dancing, jumping and teasing her colleagues.
Company manager Ralph Aschhoff produces a pre-performance quiche. "It's like feeding animals," he says as Marie-Andree and foot juggler Ludmila Nikolaeva stick out their tongues and curl their hands into paws, hovering over his pocket knife like ravenous rats.
As show time approaches, hand-balancer Alessandro di Sazio dons rubber gloves to wax the lip of his bathtub, which ensures a safe grip in his opening handstand routine. Water will cascade from the ceiling throughout the performance, turning the tubs into potentially treacherous traps and testing the performers' strength and skill.
With just five minutes to go, the theatre is filling fast. The eight cast members assemble behind the curtain, hugging each other and dancing to raise their collective energy. As the first notes of Bobby Darin's Splish Splash sound and her colleagues take their places in, on and around the tubs, Marie-Andree slips away to a large pipe through which she will climb at the conclusion of the opening number. Her character, she says, will emerge on to the stage "amazed to discover all the artists".
By the sounds of the ensuing appreciative gasps and murmurs, it seems the audience feels the same way.
Tickets
Soap - The Show runs at The Civic from Tuesday August 23 to Sunday August 28, with matinees Saturday and Sunday. All ages, but best suited for 10 years and up. Tickets from $54.90- $79.90, concessions for senior citizens and groups. buytickets.co.nz or call 0800 BUY TICKET