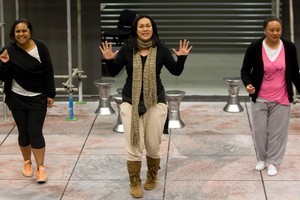 It was big night in South Auckland - while David Tua was seeking redemption in his battle with Monte Barrett the Kila Kokonut Krew delivered a knockout blow with the opening of a musical celebrating the joys and disappointments of the Pacific Island immigrant experience.
Creating an original musical from scratch is a massively ambitious undertaking and The Factory demonstrates that musical theatre is the ideal form for expressing the heightened emotions and indomitable optimism of the immigrant story.
The narrative provides a contemporary variation the Old Testament journey to the Promised Land: Escaping the devastation of the tsunami, a broken Samoan family abandon their homeland, submit to a modern form of slavery in a clothing factory and endure the hardships of a metaphorical passage through the wilderness.
The show has been a long held dream for writer and director Vela Manusaute and his vision has brought together a wonderfully talented team.
Musical director Polima Salima pulls off a remarkable fusion with a live band that has delicate string arrangements combining with the driving rhythms of Pacific Island drums, a soulful saxophone and some serious guitar based funk.
The lyrics do not always measure up to the brilliance of the score but the opening ensemble number Working at The Factory is a showstopper with sharply choreographed dance moves matching a big band soul sound and assured vocal performances.
The finale delivers some spine-tingling vocal harmonies in a gospel inflected song with a poetic refrain that captures the spirit of the show; - "we are never alone this place is just a stop on our way home"
In between we were treated to exuberant Pacific Island humour, a tender love story, the raging passion of jealousy and plenty of heartfelt emotion as characters face up to their trials and tribulations.
There is insufficient space to mention all of the fine performances but for me stand-out moments would include Natassia Wolfgramm's spirited rebellion against her tyrannical father, a sweet love duet between Tom Natoealofa and Joanna Mika-Toloa, the wildly energetic high-jinks from Tavai Fa'asavalu, a dignified portrayal of a father figure by Aleni Tufuga and a righteous political rap from Fasitua Amosa.


What: The Factory.
Where: Mangere Arts Centre - Nga Tohu o Uenuku.
When: Until 10 September.