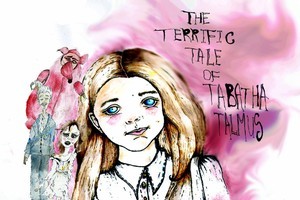 Last time actors Nic Sampson and Chris Neels worked together, Sampson chipped a tooth and was left with a permanent scar on his head; now Neels wants him to explore what a broken heart might feel like.
Neels, 23, is one of the new generation of Auckland theatre-makers who create their own opportunities by writing, directing, producing and often starring in their own plays under the auspices of their own companies.
Neels' company is Elephant Nation and These are the Skeletons of Us is his first play. Sampson, 24, plays Guy who finds himself suddenly single and alone in the house he no longer shares with the first real love of his life (played by Chelsea McEwan Millar).
As Guy wanders from room to room, he muses over possessions that don't belong to him aided by two friends (played by Andrew Ford and Colin Garlick) who, in their own inimitable ways, try to console him.
In keeping with an emerging trend, Skeletons is a home-grown and character driven work where the scenarios and people involved - however larger than life - are grounded in a reality that reminds audiences of someone they know or something they have heard about.
Heartbreak is surrounded by humour, the references to popular culture are overt and the influence of Gen Y written all over. It's natural, conversational and universal in its New Zealandness.
Andrew Ford, who works most often with the Outfit Theatre Company, says Skeletons explores male friendship and frames it against ideas about New Zealand maleness. He, Sampson and Garlick agree with Neels that it challenges the cliche of the laconic and emotionally repressed Kiwi male.
"I think it's asking 'what is the New Zealand man now?"' Ford says. "For a long time, there's been this archetype of the Southern Man, the Bruno Lawrence type character who doesn't say much, who doesn't express emotion. It's something which is strongly identifiable with New Zealand culture and while it's starting to fade, it's still there."
Neels isn't too macho to admit fear was a driving force behind creating Skeletons and The Terrific Tale of Tabatha Talmus, the earlier show on Elephant Nation's double bill at The Basement.
Graduating from Unitec, he says panic about "never working" set in and spurred him onwards. Keen to explore different theatrical forms, he joined forces with dance group Sweaty Heart Productions to devise The Terrific Tale of Tabatha Talmus.
While it's a completely different style of story from Skeletons, it's bound to resonate with audiences of a certain age who grew up watching fantasy fairytale-type movies like The Never Ending Story, Labyrinth and Dark Crystal.
"I guess the best thing about doing two different shows is it gets us to explore and to try out things that appeal to everyone involved, " says Neels. "I'm interested in both devised and scripted works so I wanted to 'attack' both forms."
Performance
What: The Terrific Tale of Tabatha Talmus/These are the Skeletons of Us
Where: Basement Theatre, August 9-13, 6.30pm & 8pm