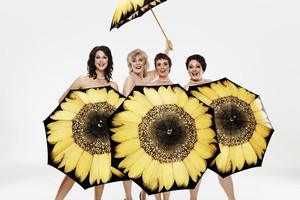 I'm going to have to go now - someone wants to talk with me about how we use buns to hide a pair of boobs ...
As conversation stoppers go it's original, but when you're directing the stage play based on the hit film Calendar Girls these types of questions confront you on a daily basis.
Just ask Auckland Theatre Company's artistic director, Colin McColl, who directs the local version of the show which has grown into one of Britain's biggest theatrical successes.
For the uninitiated, Calendar Girls relates the true story of the ladies from the Rylstone and District Women's Institute in North Yorkshire, England.
To date they have raised around £2 million ($3.8 million) for Leukaemia Research, one of Britain's biggest cancer charities, by trading in bake sales and bring-and-buys for calendars which feature them going about their normal WI activities - flower arranging, baking, gardening, cross-stitch and piano playing - in the nude.
Alison Quigan, one of the show's stars, says these women who were largely invisible - their lives grounded in countless hours of unpaid and often unsung fundraising and volunteering - suddenly became highly visible.
"It's a genuine example of ordinary people accomplishing the extraordinary and the world loves it."
Given the fundraising phenomenon which began with the first calendar in 1999, it's hardly surprising it spawned a million imitations and attracted the attention of writer Tim Firth, who took the story first to the big screen, with Julie Walters and Dame Helen Mirren in lead roles, then adapted it for theatre.
Calendar Girls the play is now one of Britain's biggest theatrical successes with advance ticket sales to the 2009 debut season in excess of £1.7 million.
After its initial nine-month London run, the play began a series of national tours which continue today. There have also been productions in the United States, Canada, Greece, Norway, Australia and Russia.
If McColl is puzzling over issues such as prop placement, he didn't worry about casting.
"I read the script and thought, 'We've got so many very talented senior female actors in this town so this will be perfect for them,' and I wasn't wrong."
The cast list certainly reads like a who's who of our finest actresses: Theresa Healey, Jennifer Ludlam, Rima Te Wiata, Alison Quigan, Kate-Louise Elliott, Cathy Downes, Hera Dunleavy and Alison Bruce.
Speak to the women and - during the course of a slightly bawdy and good-humoured interview - it's clear they are having a great time. It's not often, says Te Wiata, that an ensemble piece comes along which uses the talents of so many women in roles which are equally comic and dramatic.
Te Wiata doesn't have to take her clothes off; she portrays three supporting characters and will, according to Ludlam, steal every scene because she's a natural comedian.
Harry McNaughton is one of four men - along with Greg Johnson, Andrew Grainger and Adam Gardiner - who make brief but memorable appearances in the play.
Aged 25, McNaughton says he leaped at the chance to play the show's geeky male photographer because it meant working with a talented ensemble cast. "I looked at the cast list and thought, 'Wow, I want to work with these hotties!"'
He was awestruck after seeing Ludlam in August Osage County, describing it as one of the most compelling performances he has seen. McNaughton says Calendar Girls creates the opportunity for similarly strong, funny and moving characterisations.
"The characters are all archetypes but they are not stereotypes."
Performance
What: Calendar Girls
Where and when: Civic Theatre, August 10-20, followed by a North Island tour