Acrobatics on a bathtub? Dionne Christian talks to one of the stars of Soap - The Show, set to wash over New Zealand audiences.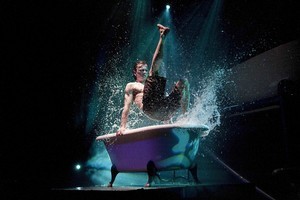 It's a show which could give new meaning to the idea of tap dancing - and really should come with a "don't try this at home" warning.
Soap - The Show arrives in New Zealand this month direct from Berlin and is described as a "cleansing theatrical experience" that fuses circus, comedy and cabaret in the steamy confines of a bathroom.
In its publicity pictures, two lithe acrobats balance provocatively on the edge of an old-style claw-foot bath as water splashes around them. That you shouldn't attempt these types of acrobatics at home is a fact champion breakdancer Alessandro di Sazio can attest to.
The 23-year-old performs a "hand-balancing" routine which - as the name suggests - involves doing handstands then balancing and manoeuvring gracefully on the side of a bath.
He usually waxes the tub so it's not slippery when wet, but recalls one performance where he ran out of wax and tried a spray instead. It didn't work as well and put the heat on di Sazio.
"I went from hand-balancing and breakdancing to skiing for the eight-minute routine," he chuckles, adding that, no, he doesn't practise at home.
The show's technicians also cautioned him on the need to splash the water artfully rather than liberally - after all, this is still a theatrical experience that relies in part on lighting and sound effects to dazzle - and we all know electricity and water aren't the best mix.
"Yes, you don't want to splash too much," di Sazio agrees, "but we have very good technicians, very wonderful, and they take all the necessary precautions and look after us."
Born in Sicily but raised in southern Germany, di Sazio joined Soap - The Show at the beginning of the year and was surprised to get an invitation because, strictly speaking, he's not a hand-balance artist.
He's been breakdancing for 11 years both with the Havox Crew, with whom he was crowned Germany's breakdance and hip-hop champion five times, and solo. After expanding his dance repertoire at Berlin's Danceworks School, di Sazio bagged himself a role in a show called Versus.
Like Soap, that show was produced by Berlin's Circle of Eleven - a company which specialises in circus-cum-cabaret-style shows designed to show off the "beauty and strength of the human form". Di Sazio says Versus was an altogether more serious proposition and when he jokingly told one of the producers he'd like his next role to be in the more frothy Soap - The Show, he never expected they would take him up on the suggestion.
"I did wonder how I could breakdance in a bath. Before I saw the show, I was fascinated by the concept but I could not imagine how you could connect the various numbers. It works, though, and it works well."
The hand-balance routine has been adjusted to utilise more of the dance skills for which he is famous in hip-hop circles. He was chuffed when the original hand-balance artist told him the re-interpretation of the routine worked better.
Di Sazio is one of eight acrobats who show off their various skills in, on and around a series of bathtubs. The talent pool also includes Ethiopian juggler Adem Endris, aerial silk and Chinese pole performer Faon Shane, and American opera singer Patricia Holtzmann.
The water-soaked acts are performed to a soundtrack that includes music by the Doors, Mika, Sia, Tool and Ben Harper.
Despite the fact he's facing a 30-hour flight to get here, di Sazio says he can't wait to arrive in New Zealand. He's always wanted to visit and, at 23, he's getting to come and do what he loves.
"I'm going to make the most of my days off and see as much as I can."
So, no time for soaking in a hot bath to relax and unwind, then?
"I prefer to take showers."
LOWDOWN
What: Soap - The Show
Where: The Civic
When: 23-28 August
-TimeOut